Berkshire Triticale – a growing grain option in 2013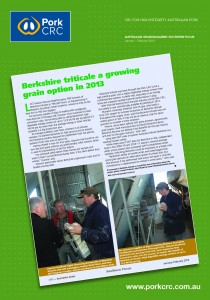 Berkshire, a high-yielding and highly digestible triticale variety named after a pig breed, is showing promise as a versatile stockfeed on one Western Australian farm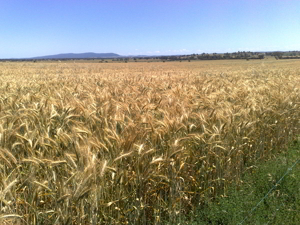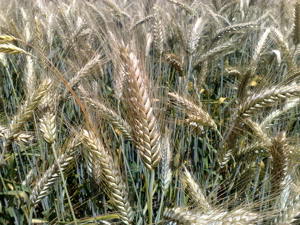 Triticale treat –Berkshire growing at 'Koorani', Young, NSW,
property of Sally Walker and Jonathon Duff.
Developing and delivering new highly nutritious feed grain varieties specifically for pigs, along with manageable agronomic support packages for growing in regions close to major centres of pork production, has been a major focus of both Pork CRCs.
One of the success stories has been Berkshire, a high yielding triticale developed by Pork CRC and the University of Sydney, with support from GRDC, which has helped pigs perform as well or slightly better than those fed wheat. With an average digestible energy (DE) of up to 13.9 MJ DE/kg, Berkshire has about 0.5 MJ DE/kg more than the average energy in other triticale varieties.