Pork CRC is seeking Honours students to work in a number of specific areas across its four programs. The projects are in leading edge research areas and offer successful applicants the opportunity to develop skills and knowledge in new areas of pork production and market research. Pork CRC works closely with its end user participants and successful applicants often work within commercial environments which greatly assists their future employment prospects. Those interested should contact the relevant individual at their University or the Program/SubProgram Leaders listed below, and complete the application form, which can now be lodged at any time.
This is your opportunity to make your mark in the pork industry by participating in cutting edge research with committed fellow scientists.
Program 4: Carbon conscious nutrient inputs and outputs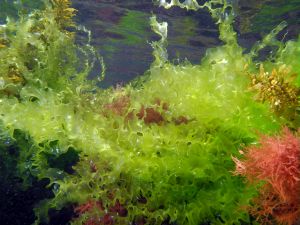 Are you thinking of undertaking honours in 2015? 
Are you interested in solving some of the existing problems with treating wastewaters, especially piggery wastewater effluents, in an environmentally friendly way, working in the leading algae biotechnology laboratory in Australia?
If your answer is YES to these questions, then we have a project for you involving the use of freshwater macroalgae cultures for nutrient and CO2 recovery from the anaerobic digestion effluent of piggeries.
How much is the Award?
The award is valued at $10,000.  That's $5,000 for the operating costs of the project and $5,000 as a stipend.
Are you eligible to apply?
To see if you are eligible to apply, check if you meet all of these circumstances:
Have you completed a minimum three-year undergraduate degree in Biological Sciences?  (Chemistry and Microbiology background is highly desirable, but we are happy to teach the right candidate.)
Did you achieve at least a Credit plus average in your undergraduate studies?
Will you be enrolling in a relevant Murdoch University Honours course by February 1, 2015 to commence studies in the first semester of 2015?
If you can answer YES to all of these questions, then you are eligible to apply for the Pork CRC Honours Scholarship.
How is your application assessed?
Your application will be ranked with other applications in an assessment of the combination of each of the following:
Your overall eligibility
A written reference by a referee who is qualified to comment on your academic progress and potential
A personal statement that discusses your outstanding academic and leadership capabilities and your ability to communicate effectively
* Please note that this scholarship will be awarded on the basis of merit.
How and when can you apply?
Applications are open now, however this scholarship is not administered by the Scholarships Office.  If you are interested, please contact directly:
Dr. Navid Moheimani at n.moheimani@murdoch.edu.au or on (08) 9360 2333 or
Dr. John Huisman at J.Huisman@murdoch.edu.au o on (08) 9360 2400
Other Programs also have specific opportunities
Program 2 – Herd Health Management
An honours student is sought for a project on selection for robustness
2B – Healthy, Robust Pig Genotypes will arise from selection strategies that focus on welfare and health status of highly productive pigs across multiple commercial grow-out systems with varying environmental stressors, with the development of new selection criteria, statistical methodology and molecular, genetic strategies to improve disease resilience and robustness in current Australian genotypes. Collaborative research programs with Iowa State University and INRA (through AGBU), both of which have unique selection lines (for immune responsiveness and disease tolerance) and expertise in strategic genomics will be integral in this program.
Program Leader
Dr Brian Luxford bluxford@rivalea.com.au  (02) 6033-8203 or 0418 261 844
Subprogram Leader
2B – Dr Pat Mitchell pat.mitchell@australianpork.com.au
Program 3 – Healthy Pork Consumption
Three honours students are sought for projects associated with pork quality and one on the inherent human health properties of Australian pork
3A – Optimal Pork Quality for Multiple Markets will develop pork quality predictive models for a range of supply chains, on-line screening tests for taint markers and other quality parameters, carcase assessment technologies to define carcase and primal cuts for different markets, and trace element traceability technologies to underpin integrity of Australian pork.
3B – Inherent Properties of Australian Pork to Enhance Consumer Health will research the inherent health properties of pork to address key issues such as obesity, cardiovascular disease and diabetes. Human health models will be developed to validate the effects of pork consumption and new value added products benefiting consumer health.
Program Leader
Dr Darryl D'Souza darryl.dsouza@australianpork.com.au  (02) 6285 2200
Subprogram Leaders
3A – Prof. Frank Dunshea  fdunshea@unimelb.edu.au
3B – Associate Prof Karen Charlton karenc@uow.edu.au