Student Workshop – November 27, 2011
Pork CRC and APL supported post graduate and honours students presented findings, preliminary and otherwise, of their research projects at the student workshop in Adelaide on Sunday, November 27.
Of the 34 who presented, the majority of whom were Pork CRC supported, most presented their PhD theses while five discussed their honours projects.
Dr Pat Mitchell of APL, at the conclusion of the student presentations, announced the formation of a student leadership group, comprising post-grads Heather Channon of Melbourne University, Meeka Capozzalo of Murdoch University, Robyn Terry of Adelaide University, Ellen McDonald of Sydney University and Mitchell Groves of Queensland University (pictured below).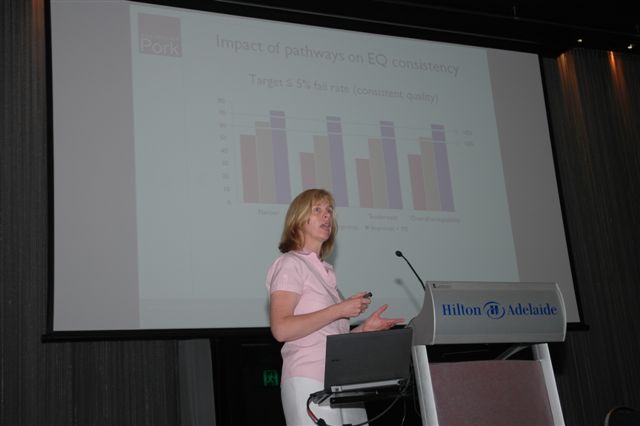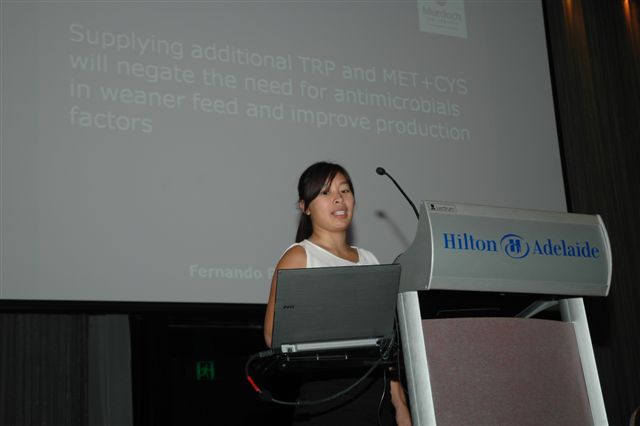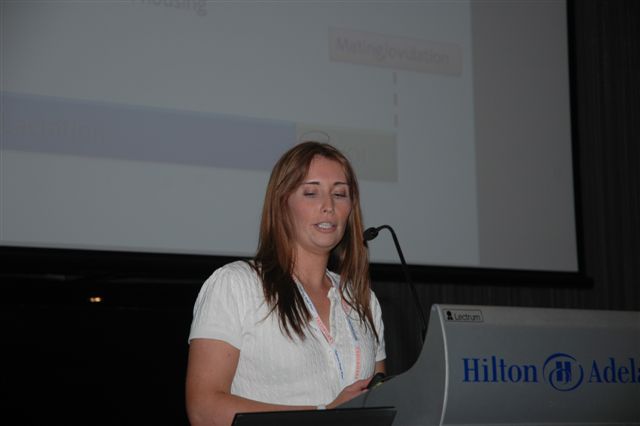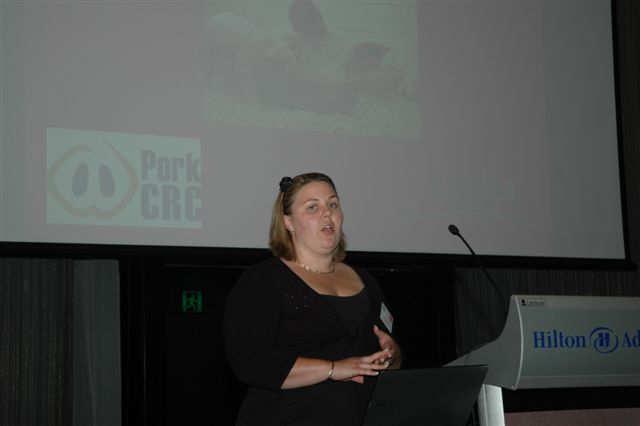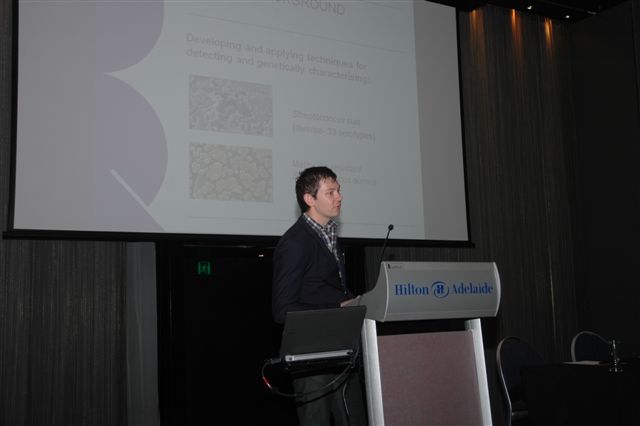 Sue Merry of Pork CRC and Dr Mitchell are to be commended for the tremendous work they do encouraging and assisting the students, and helping make their studies that little bit easier.
DAFWA's Dr Bruce Mullan and Professor George Foxcroft of the University of Alberta, judged the student presentations, declaring Anthony Martyniuk (pictured below) of Adelaide University the best honours student presenter.
Pork CRC supported, his topic was Strategies for reducing aggression and frustration in group housed sows and gilts, which, of course, has a nice fit with the new Pork CRC's Program One, Confinement Free Sow and Piglet management.
Judged best post-grad presenter was APL supported Natasha Kreitals (pictured below) of The University of Western Australia, who discussed her investigation into the potential use of trace elements and stable isotopes in the traceability of pork offal and its relationship to the pork meat Physi-Trace database.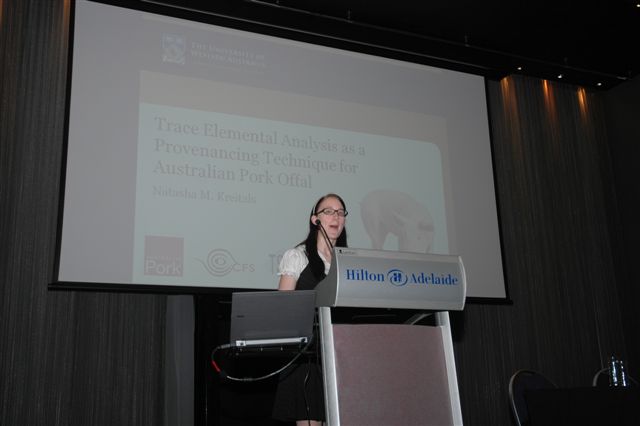 Dr Mullan and Professor Foxcroft, before announcing the winners, gave the students some advice on their presentations and how they might better present their findings, especially when constrained by time.
Their key points were:
– Always show some results of your research.
– No need to say your name or your subject if it's up on the screen.
– If running out of allotted time, proceed straight to your summary.
– Don't show lists of references on screen, because audience can't read them.
– Use body language and let your personality shine through.
– Use a maximum of eight lines per slide.
The importance of encouraging young people to join the research ranks that support Australia's pork industry was very well summed up by Pork CRC Chairman, Dr John Keniry, during his enlightening and reflective A.C. Dunkin Memorial Lecture, which effectively opened the 2011 APSA Conference.
He said that during the six year life of the first Pork CRC, it had supported 50 honours students, 23 PhD students and five post-doctoral researchers.
Many had remained working in the pork industry since graduating and, according to Dr Keniry, they would form the nucleus of young researchers and production management personnel that would carry the industry forward in future years.
Further Photos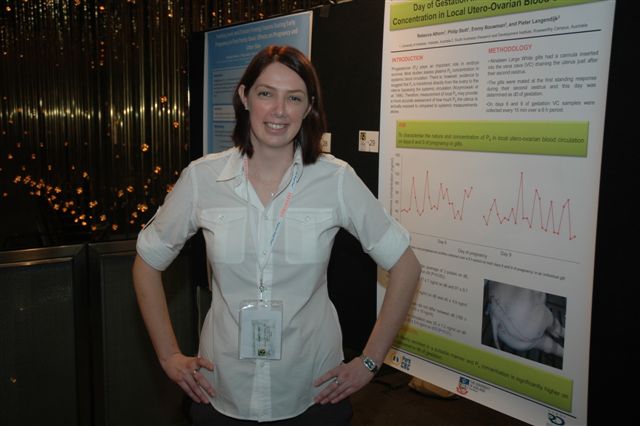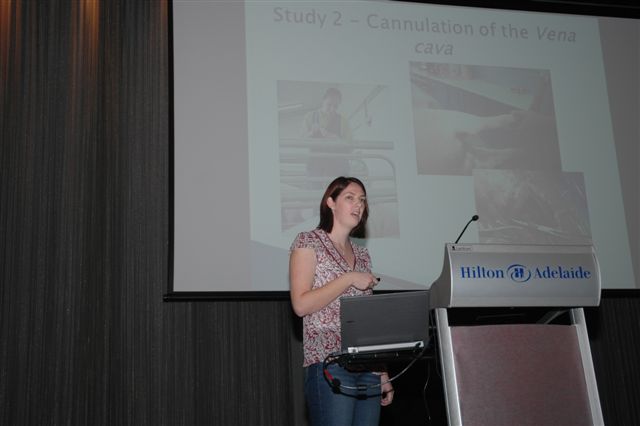 Pork CRC supported Adelaide University post-grad, Rebecca Athorn, stands proudly alongside her poster at APSA, titled Day of gestation influences progesterone concentration in local utero-ovarian blood circulation and presenting at the 2011 Pork CRC/APL Student Workshop in Adelaide
Enjoying the Pork CRC dinner at the Adelaide Hilton were students Natasha Kreitals, The University of Western Australia, Matthew Tscharke, University of Southern Queensland and Meeka Capozzalo and Taya Clarke, both of Murdoch University. Natasha was judged the best post-grad presenter at a student workshop the next day
Relaxing at the Pork CRC dinner were Lauren Roberts, Monash University and Jill Groat and Jessira Perovic, both of Charles Sturt University