Pork CRC/APL Student Workshop
at 2016 PPPE Gold Coast Queensland
Welcoming about 30 Pork CRC and APL supported students to a one day workshop at the 2016 Pan Pacific Pork Expo on Tuesday, May 24, Pork CRC CEO Dr Roger Campbell said the 'real work' started once students had finished their studies, whether that be in honours, masters, PhD, post-doc, or if they were part of the Pork CRC's Industry Placement Program (IPP). "When you finish you probably know as much as anyone about the area you've studied, so it's then up to you to sell yourselves and PPPE is an ideal opportunity, with most of the industry's key players in attendance". Dr Campbell added that he was proud to report that about 90% of students from the inaugural Pork CRC now had jobs within the industry. "With the quality of students we have in the current CRC for High Integrity Australian Pork and the very refined focus of our programs, I'm sure we'll enjoy similar outcomes once this CRC winds up and we transition," he added.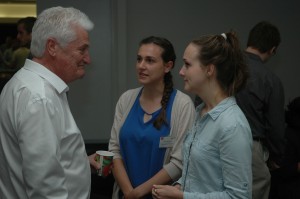 Pork CRC CEO Dr Roger Campbell chats to University of Adelaide student Alice Rainsford and Pork CRC IPP Tanya Nowland of SARDI.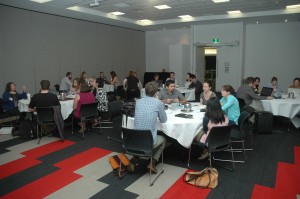 Students worked in groups during the Pork CRC/APL student workshop at PPPE 2016.

WAPPA PIG DAY OUT 2016
An insightful reflection by animal nutritionist Tony Edwards of ACE Livestock Consulting on how the past 30 years of research has benefited pork producers set the scene for a vibrant 2016 Pig Day Out, attended by about 100 people and hosted by West Australian Pork Producers' Association (WAPPA) and Department of Agriculture and Food WA (DAFWA) on Friday, April 8 at Technology Park, Bentley.
Quoting fascinating statistics, such as the rise in average daily weight gain from 450gm in the 1970s to 700gm today, pigs produced per sow per year from 16 to 24 and kilograms of meat produced per sow per year from 960kg to 1800kg, Mr Edwards noted that pork production technology had advanced rapidly.
"However, we need to constantly improve to remain competitive and the main driver of improvements will be scientific research. There is still much more to uncover and we are currently well short of the biological potential of the pig," he said.
Addressing the issue of where Australia sits in the global pig and pork productivity and profitability stakes, Pork CRC CEO Roger Campbell said the Australian industry was currently one of the most profitable and vibrant in the world. Click here for more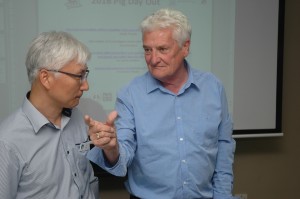 Dr Jae Kim DAFWA & Dr Roger Campbell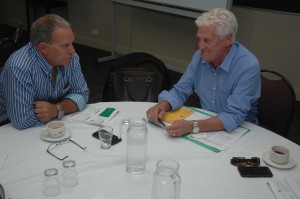 Stuart Coole of Boyup Brook & Dr Roger Campbell of Pork CRC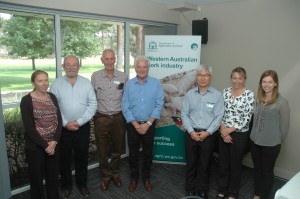 Karen Moore, Tony Edwards, Hugh Payne, Roger Campbell, Jae Kim, Megan Trezona, Diana Turpin
Pork CRC On Course To Build Industry Knowledge
The annual Pork CRC supported Roseworthy, South Australia, Pig Course (The Science and Practice of Pig Production) ran successfully again this year, from January 18 to 29.
This year 35 people attended and were a mix of pork industry personnel, postgraduate students and undergraduate students.
Dr Will van Wettere (School of Animal and Veterinary Sciences, The University of Adelaide) took over the course this year from Professor Paul Hughes.
The course covered reproduction, housing, health and nutrition, plus aspects of genetics, pig meat and marketing and included classroom teaching and visits to a piggery, an AI station and an abattoir.
While much of the course was taught by Dr van Wettere, a series of expert lecturers were also added to the program.
These included nutrition experts Tony Edwards and Dr Megan Edwards of ACE Livestock Consulting and Pork CRC CEO Dr Roger Campbell.
Health and air quality was discussed by Dr Colin Cargill, Professor Darren Trott (The University of Adelaide) explained the issues around antibiotic use, with Dr Stephen Tait, who leads the Pork CRC's Bioenergy Support Program covering housing and biogas.
Peter Haydon (APL) and Professor Frank Dunshea (The University of Melbourne) discussed marketing and meat quality, while Dr David Lines (Sunpork South), Dr Kate Plush (SARDI) and Dr Cameron Ralph (SARDI) discussed the commercial realities of pig production, farrowing house management and boar taint, respectively.
Professor Paul Hughes even made a guest appearance to discuss some of the finer points of genetics and reproduction.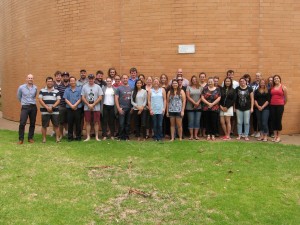 Pork CRC Stakeholders Meeting & APSA, Melbourne, November 2015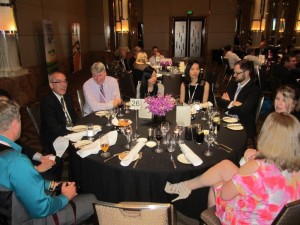 APSA Dinner Grand Hyatt Melbourne 231115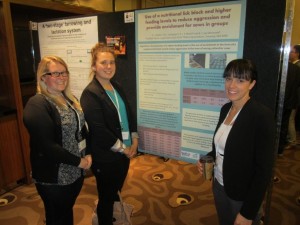 Students Brooke Dearlove and Julia Sophia Huser, with Tracy Muller, SunPork Farms.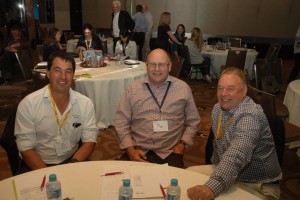 Ian Carter, NZ Pork, Ian Barugh, Massey University, NZ and Chris Trengrove, Pork CRC Director & NZ pork producer.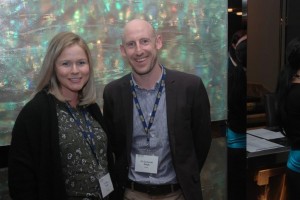 Kate Plush & Cameron Ralph, both of SARDI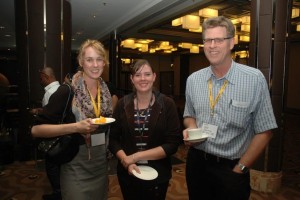 Lechelle Van Breeda University of Sydney, Megan Hawley, Flinders University and Alan Skerman, University of Queensland.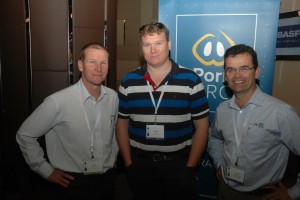 Neil Gannon, Biomin, Robert Hewitt, Sunpork Farms and Charles Rikard-Bell, Pork CRC.
Pork CRC & APL 2015 APSA Student Workshop.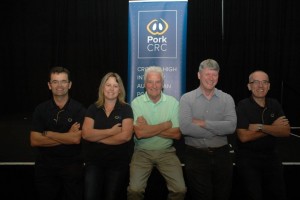 Pork CRC Executive team @ APSA 2015, Charles Rikard-Bell, Rebecca Smith, Roger Campbell, Geoff Crook and Richard Westmacott.

WAPPA PIG DAY OUT
Research and development underpinning modern pork production systems was highlighted at the 2015 Pig Day Out, co-hosted by West Australian Pork Producers' Association (WAPPA) and Department of Agriculture and Food WA (DAFWA).
With demand for free range pork on the rise and around 20 per cent of the state's pig kill now sourced from free range enterprises, Dr Megan Trezona of DAFWA addressed the issue of the impact outdoor production was having on product quality.
Complementing her address, which touched on feed and feed conversion ratios, DAFWA colleague and PhD candidate, Karen Moore, detailed her work on the dietary needs and feeding strategies for finisher pigs, before also presenting her Pork CRC supported research into the impact on body composition and eating quality after pigs have received the second dose of Improvac.
Dr Cam Jose of Murdoch University discussed how predicting ultimate muscle pH can help measure subsequent eating quality and Dr Jae Kim of DAFWA demonstrated that feeding Vitamin E to finishers could help deliver a premium pork product.
With the morning R&D session concluded, WA Liberal Senator and former veterinarian, Chris Back, explained that his proposed private members' anti-trespass bill, if and when passed, would make a positive contribution to animal welfare.
James Battams and Janine Price, both of Australian Pork Limited, told Pig Day Out attendees, including many producers, that correctly registering pig movements and appropriately dealing with environmental applications, while sometimes burdensome, were necessary to address community and biosecurity concerns.
Ms Price's environmental presentation was complemented by one from consultant Ian Kruger, who explained how using the greenhouse gas calculator, PigGas, could help producers understand and manage their farm's greenhouse gas emissions.
"Using the Pig Gas Calculator to identify emission intensity levels, efficiencies in production and appropriate waste management systems can only aid Australian pig farmers in becoming more environmentally friendly and efficient," Mr Kruger said.
Dr Trish Fleming of Murdoch University discussed her research at a Great Southern outdoor piggery into the predatory impact of foxes, especially on piglets. She indicated that some sows seemed to be more protective of their litters than others.
The final presentation was an entertaining one from Portec veterinarian Kim Nairn.
Aside from discussing the unpleasant subject of abattoir condemnations, Dr Nairn was most uplifting when commending producers and their staff for the initiatives they showed in and around their piggeries, subsequently announcing a substantial cash prize for the forthcoming Portec Producer Ingenuity Awards.
At the conclusion of the 2015 Pig Day Out and while addressing a brief WAPPA General Meeting, also held on the same day and at the same venue, Technology Park, WAPPA President, Richard Evison, commended WA's producers on how well they collaborated with researchers and research institutions.
Producer adoption rate of innovative technologies, especially those that directly improve bottom lines, reflects the quality of the research that, in many cases, the producers are co-funding and this sustains WA's industry," Mr Evison said.
WA's pork industry employs an estimated 1700 full and part-time workers and an estimated $50 million has been invested in housing and production systems during the past five years to meet new guidelines for sow housing and production efficiency.
Jan Cooper, WAPPA's new Executive Officer, encouraged members at the General Meeting to engage with her in shaping WAPPA's direction.
WAPPA's Executive Committee comprises Graeme Dent of Cuballing, Dawson Bradford (Vice President) of Popanyinning, Torben Soerensen (Treasurer) of GD Pork , Dean Romaniello of Craig Mostyn Group and Richard Evison (President) of Westpork.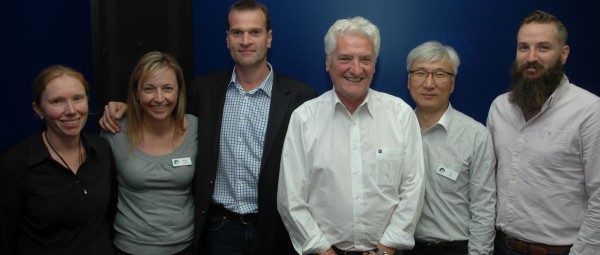 Pork CRC's Roger Campbell and WAPPA's Richard Evison with Pork CRC supported researchers – Karen Moore, Megan Trezona and Jae Kim of DAFWA with Murdoch University's Cam Jose
Putting Science Into Practice
The annual Roseworthy, South Australia Pig Course (The Science and Practice of Pig Production) ran successfully again this year, from January 12 to 23, with its unique mix of pork industry personnel, postgraduate students & undergraduate students. More than 30 people attended the two week course, which covered pig genetics, nutrition, reproduction, housing and health, plus aspects of pig meat and marketing. The course included classroom teaching and a series of visits to piggeries, an AI station, a feedmill and an abattoir. While much of the course was taught by Professor Paul Hughes, in 2015 a series of expert lecturers were also added to the program. These included Pork CRC CEO Dr Roger Campbell, Mr Tony Edwards of ACE Livestock Consulting, Assoc. Professor Roy Kirkwood of University of Adelaide, Dr Stephan Tait, who heads up Pork CRC's Bioenergy Support Program, Ms Heather Channon of APL & Mr Rod Hamann of Australian Pork Farms Group.
 [slideshow_deploy id='3517']
Tracy Muller now well placed in pork industry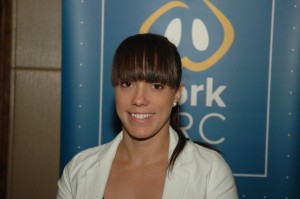 Tracy Muller, employed by CHM Alliance as part of Pork CRC's industry placement program, has been recognised for her dedication to improving sow lameness by being awarded the APL sponsored Science and Innovation Award for Young People in Agriculture, Fisheries and Forestry. She will receive up to $22,000 in grant funding to develop a diet for young female pigs to reduce lameness that can affect one in 30 pigs. She received the award from Agriculture Minister, Barnaby Joyce at Outlook 2015.
Congratulating Tracy, Pork CRC CEO, Dr Roger Campbell, said he was impressed with her obvious commitment to improving pig welfare when he first met her at the Prairie Swine Centre, Saskatchewan, Canada and subsequently invited her into Pork CRC's industry placement program. "One of the aims of the program is to expose graduates, such as Tracy, who want a long term role in the pig industry, to the commercial aspects of pork production and therefore enhance their future contributions and value to pork businesses, such as Pork CRC Participant, CHM," Dr Campbell noted.
For further information, read Backing science that backs innovation in agriculture media  from the Federal Minister of Agriculture, the Honourable Barnaby Joyce MP
Cleverly Chewing the Fat on Canberra Radio
Alex Sloan of 666ABC Canberra this week spent 25 minutes talking about Australia as the clever country and Australia's highly innovative R&D sector with Professor Tony Peacock, Executive Director of the Cooperative Research Centres Association (CRCA) and Pork CRC CEO, Dr  Roger Campbell and Chairman, Dennis Mutton. It was the popular Dr Campbell's second appearance on the highly rated program in a month. Pork CRC and APL R&D, particularly about pork eating quality, including the 6-2-2 pork steak cooking method was on the menu. Have a listen now to the three wise men as they cleverly chew the fat on a range of informative topics.
Megan's Moment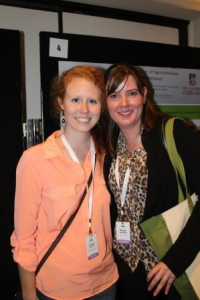 Congratulations to Pork CRC supported PhD candidate, Megan Hawley of Flinders University (at right in picture above), who recently won the $500 best poster award at the 2014 Bioenergy Australia Conference  held in Adelaide.
Megan's poster, titled Aerobic treatment as an enabling technology for algal biomass production, was based on her Pork CRC Program 4 PhD project, Advanced integrated treatment of pig slurry for algal biomass production and improved pig health.
According to Megan, Australia' pork industry is actively looking to reduce its environmental impact, particularly associated with greenhouse gas emissions. Her project is in response to the recommendation of the Pork CRC commissioned review 'Algae for Energy & Feed: a wastewater solution', which recommended research into the integrated treatment of piggery slurry, including investigation of the potential for algae to further treat the wastewater and as a source of biomass for energy production.
Program 4 – Carbon conscious nutrient inputs and outputs aims to reduce the carbon footprint of pork production to 1 kg CO2 equivalents per kg of pork produced.
Pork CRC CEO, Dr Roger Campbell, said everyone involved with Pork CRC was very proud of Megan and delighted with her win, which again underlined the emphasis Pork CRC placed on its higher education commitment, which ran across all of its programs.
Pork CRC has successfully completed five postdoctoral programs, seven postgraduate projects and 46 undergraduate (Honours awards) projects.
Dr Campbell said all Pork CRC supported students had done extremely well in 2014 and he wished the students and their supervisors, a happy and safe Christmas and an enjoyable break.
Stakes Getting Higher for Pork CRC
[slideshow_deploy id='3339']
Officially opening the 3rd annual stakeholders' meeting of the CRC for High Integrity Australian Pork in Melbourne on Monday, November 17, Chairman, Dennis Mutton, told a 75 strong audience of researchers, students, producers and Pork CRC participants that the future for pork R&D was strong.
"Having said that, we are looking to our researchers and participants to help us define that future.
"Now in year four of operation and with our sixth investment round to come in the 15/16 financial year, the Pork CRC encourages all involved to look at game changers to improve the industry's sustainability and grow intellectual property so that we can successfully transition beyond this CRC in 18/19. The job is not yet done and we need to maintain energy and focus in this CRC."
Pork CRC CEO, Dr Roger Campbell, commended students and researchers, in particular, for their efforts in the past year and emphasised the valuable contributions of Australian and international collaborators, especially Pork CRC's suite of participants who commit cash and in-kind contributions.
"There's no doubt research is alive and well across Australia and it has a very bright future.
"Our very successful education program is public proof of that, with undergraduates and post graduates working within all our programs, plus we have a very successful industry placement program and an enviable hit rate with post-study employment for students we've supported."
CRC AT PPPE

Forward Thinking: Creating Opportunities
With a record 576 attendees at Pan Pacific Pork Expo 2014 and a generally upbeat atmosphere, delegates, presenters, trade show exhibitors and sponsors, including Pork CRC, all took home a clear message that Australia's pork industry is on a positive path to producing a differentiated, high integrity product that will be increasingly sought after by domestic and export buyers.
Significant advances in welfare, particularly in group housing of sows, with much of that driven by focussed Pork CRC supported high level science, backed by quality producer input, plus a better understanding of the role pork can play in improving human health and nutrition, provided we get our product right, all makes for an exciting future.
PPPE 2014 certainly lived up to its slogan of Forward thinking: creating opportunities and I know the many members of the Pork CRC 'family', including executives, board members and participants, who attended and participated in forums, plenary sessions, concurrent sessions and the trade show, all played their part in adding to the quality of discussion and debate.
I was particularly pleased with our student workshop, held in conjunction with APL the day before PPPE officially opened. We have outstanding students, most of whom have very active links with industry, which means a steady flow of fresh ideas and a mutual, timely exchange of sometimes ground breaking research. Pork CRC's education program, securely bolted onto all four of our research programs has been a great success in conjunction with our industry placement program.
I thank and commend everyone who attended and supported PPPE 2014.
Roger Campbell
Pork CRC CEO
[caption id="attachment_2692″ align="aligncenter" width="300″]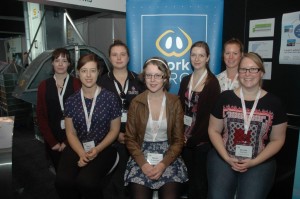 University of Adelaide students at PPPE 2014[/caption]
WAPPA Pig Day Out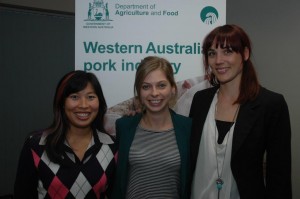 Pork CRC PhD student Diana Turpin (centre) presented at WAPPA's Pig Day Out at Technology Park, Bentley, WA, on Friday, May 9. Diana's presentation topic, Behaviour of sows at mixing, focussed mainly on intermittent suckling, which forms a big part of her Pork CRC supported PhD @ Murdoch University i.e. Gradual weaning of piglets: effects on performance and gut health. According to Diana, intermittent suckling is a type of gradual weaning regime in which the sow and piglets are separated for a specified period of time before weaning. Intermittent suckling has the potential benefit of improving adaption to weaning by mimicking the increasing amount of time sows would spend away from the piglets during the lactation period when sows themselves can control contact with their litter. Her fellow Murdoch University student post-graduate student presenters were Meeka Capozzalo (left) and Taya Clarke, who presented, respectively, on Amino acid requirements of the weaned pig and Behaviour of sows at mixing.
Pork CRC Board Member, Rod Hamann, also addressed the day, speaking about meeting the needs and demands of a changing industry, with a particular focus on how this was being done at Australian Pork Farms Group, where he is CEO.
Sow Housing Workshops
Wednesday April 2, 2014 – Bourke and Wills Hotel, Toowoomba, Qld
Friday April 4, 2014 – Park Royal Hotel, Melbourne Airport, Vic
The Australian pork industry is moving towards lower confinement systems after weaning and during gestation. In October 2013, Pork CRC and APL held sow housing workshops to provide information to Australian pork producers on group housing of sows.
The 2014 sow workshops provided an update of how pork producers are managing these changes to lower confinement systems some 18 months later. These one-day workshops provided new information on the principles and strategies to mix sows in groups from weaning and after insemination, with a combination of presentations and facilitated panel discussions with pork producers who have recently changed from stall to group housing.
Presentations available for download here
Sow reproductive efficiency in the USA  – February/March 2014 
Dr. Tim Safranski
State Swine Breeding Specialist
University of Missouri, USA
Tim gave a very practical talk looking at how the better US pork producers now run their breeding herds to maximize output. The talk began with a summary of gilt management which included many of the elements we're now recommending to Australian producers. He then briefly explained how US producers have raised the health status of their herds such that it's no longer necessary to use segregated early weaning systems to ensure high health status piglets at weaning. Indeed, he suggested that most US producers are now weaning at greater than 21 days & many are moving towards 24-28 day weaning. The bulk of Tim's talk concentrated on how the rate of stillbirths & pre-weaning mortality can be minimized by practical steps in the farrowing house. These include hormonal induction of farrowing to ensure supervision of farrowings, identification of at risk piglets, effective cross-fostering, split-suckling & optimal management of 'fall-behind' piglets. Download the presentation here or visit the PigLink website to download a copy and listen to Tim – A North American perspective on sow farm reproductive efficiency
South Australian Pig Industry Day 2014
Pork SA and the SA Pig Industry Fund (through the SA Pig Industry Advisory Group), Australian Pork Ltd and Pork CRC held the South Australian Pig Industry Day at Roseworthy on Friday, February 21. 
Sessions included – LOOKING AFTER YOUR PIGS, PROTECTING YOUR BUSINESS,  MARKET UPDATE and a RESEARCH UPDATE 
All media enquiries should be directed to: Brendon Cant, Communications Manager, or 0417 930 536