Program 1 – Reduced confinement of sows and piglets
Pork CRC Program 1 Leader Dr Will van Wettere holds an honours degree in Agricultural Science (University of Edinburgh, Scotland) and a PhD focussing on reproduction of female pigs (University of Adelaide, SA).
After completing his PhD, Will was awarded a Pork CRC post-doctoral award focussing on reproduction and is now employed as a Senior Lecturer (Intensive Livestock, Pigs) at University of Adelaide's School of Animal Science. Throughout his career Will has been fortunate to receive extensive support from Pork CRC and be involved in a wide range of CRC activities, including the CRC's education program. Will succeeded Dr Ray King as Leader of Pork CRC Program 1 ('Reduced confinement of sows and piglets') on July 1 and earlier this year he replaced Professor Paul Hughes to run Pork CRC's annual summer course at Roseworthy, 'The Science and Practice of Pig Production'.  Click here for more.
Program 2 – Herd Health Management
Dr Pat Mitchell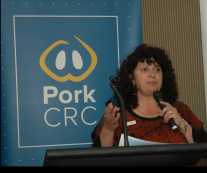 Program 3 – Healthy Pork Consumption
Program 4 – Carbon Conscious Nutrient Inputs and Outputs
Dr Stephan Tait, who succeeded Dr Rob Wilson on July 1 as Leader of Pork CRC Program 4 'Carbon conscious nutrient inputs and outputs', has been actively involved in the CRC for High Integrity Australian Pork, with specific strategic advice, coordination and collaboration within the 'Carbon neutral pork production' Subprogram.
This Subprogram encourages novel research and development to maximise methane production from effluent ponds to reduce carbon emissions, together with effective on-farm utilisation of the gas for heat and power.
Stephan, who has a Bachelor of Engineering and a PhD in Chemical Engineering from University of Queensland, was awarded a Pork CRC Research Fellowship in 2012 to lead the Pork CRC's Bioenergy Support Program, which has successfully encouraged and promoted commercial on-farm uptake of renewable energy production and use and nutrient recovery utilisation from waste technologies in Australia and New Zealand. Click here for more.