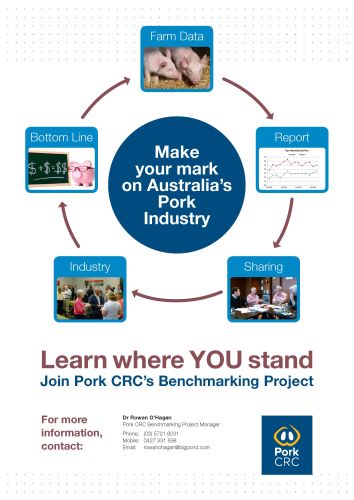 What is it all about?
Driving continuous improvement.
What's in it for the producer?
Focus on improvement of your business by better understanding the drivers of productivity and profitability
Find where you rank relative to peers in the pork industry
Meet annually to share outcomes and learn from other progressive producers
Receive quality reports tailored to your needs and ensuring confidentiality
Contribute to the continuous improvement of the Australian pork industry
What's in it for the industry?
• Monitor and interpret physical and financial pork industry competitiveness
• Follow the uptake of CRC projects and their impact on the pork industry
• Ensure an evidence-based platform for research and industry strategies
Collecting quarterly data allows the analysis to show quarterly seasonal trends in addition to annual overall improvement trends. Each system or farm is given a code which is then only identifiable to that client.
What do I see?
Quarterly Reports
The Benchmarking data is gathered on a quarterly basis for 33 KPIs, and collected for 2 quarters every 6 months by the Project Manager. It is collated in Excel, analysed and results reported back to clients in a printable report. The data deadline is the end of month after the end of each 6 month period i.e. July 31 and January 31.
The current baseline data is the annual data for 2005/06. For new participants who do not have suitable data going back to that period, a different starting point can be worked out.
There are 3 categories of KPIs –
Breeding Herd KPI's – Ranked by Pigs Weaned/Sow/Year (17 KPIs)
Nursery/Grower/Finisher/Whole Herd KPI's – Ranked by Whole Herd FCR (11 KPIs)
Financial KPI's – Ranked by Cost of Production [$/Kg ] (5 KPIs)
Annual Data
The annual figures for each KPI are the average of the four quarters, submitted by the end of July each year with the figures for the previous two quarters.
Benchmarking Reports
Graphs
Each KPI is depicted graphically with quarterly or annual trends (below is an example of one breeding trait). The first graph shows the Average, Average of the Best 3 and Maximum and Minimum for the combined systems.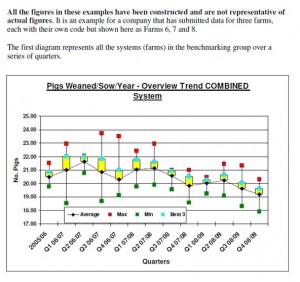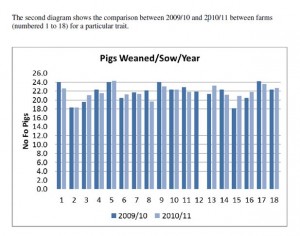 As the Benchmarking Project develops, the graphical depiction of the data may change, depending on participants' preferences.
Collated Data
Each farm knows their own code or number in relation to each graph or table.
The data is collated to rank systems against an apical trait or major ranking KPI, which is:
Pigs Weaned/Sow/Year for Breeding.
Herd FCR for NGFWH.
Total Cost of Production for Financial.
Once ranked, the rest of the KPIs for that system are shown beside the apical KPI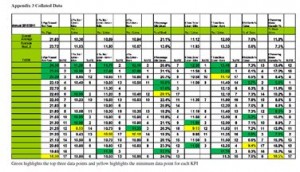 The top 3 farms and the lowest ranked farm for each KPI are highlighted.
As was stated for the graphical depiction of the data, as the Benchmarking Project develops, the depiction of the collated data may change, depending on participants' preferences.
Conclusion
This information has been compiled for prospective participants in the Benchmarking Project, to inform them of the current requirements of the project and to help identify any assistance they may need to participate. When you have had an opportunity to digest this information, please contact the Project Manager, Dr Rowan O'Hagan on 03 5721 8231 or 0427 331 598, Email rowanohagan@bigpond.com