Talking Topic 4
Cleaning Piggery Biogas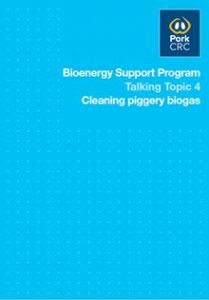 Biogas is naturally produced when manure is treated in effluent ponds. Biogas is a good fuel for heating or electricity generation, but requires some treatment/cleaning before use to ensure it is safe and cost effective. This Talking Topic describes methods for cleaning of biogas and associated Pork CRC research activities. Click here to download
Talking Topic 3
Covered Lagoons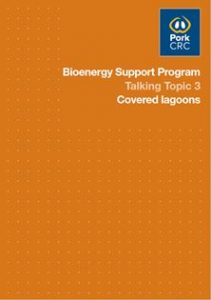 Covered lagoons capture biogas from manure treatment. Biogas is an excellent fuel which can be used at piggeries to produce electricity or for heating. This Talking Topic describes how covered lagoons work, handling of sludge, biogas collection, and associated Pork CRC research activities. Click here to download
Alternative Lactation Housing
May 2016
Pork CRC and APL released the industry publication "Alternative Lactation Housing Systems for Australian Pork Producers" at PPPE 2016.
It summarises research and experiences with four alternative systems, Combi-Flex pen, 360 farrower, SWAP pen and PIGSAFE pen, while also comparing them with the traditional farrowing crate, based on the sow (behaviour, physiology, body condition and reproduction), the piglet (behaviour, physiology, growth rate and mortality) and the producer (capital cost, labour requirement and OH&S issues). Click here to download.

Breeding Focus 2014: Improving Resilience
This industry workshop was held at the end of October 2014 and provided a discussion forum for over 40 scientists, breeders and representatives from the livestock and aquaculture industries. The topics presented at the workshop have been published as a book Breeding Focus 2014 – Improving resilience which can be ordered from AGBU. Abstracts of the papers are available as a pdf.
April 10, 2014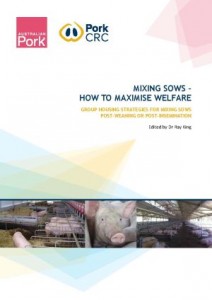 A new publication on group housing strategies for mixing sows post-weaning or post-insemination, edited by Pork CRC's Program 1 Leader, Dr Ray King, first distributed in hard copy to the attendees of the Sow Housing Workshops last week in Toowoomba and Melbourne is now available for download.
November 1, 2013
The summer can be one of the most challenging times of the year for care of pigs as the combination of heat and increased day-length create environmental conditions that can be difficult to cope with and manage.
The scientific research outcomes that provide the groundwork for Steps to alleviate the effects of seasonal infertility and Take Home messages are all included in this Preparing for the summer months: seasonal infertility and beyond manual from Pork CRC and APL.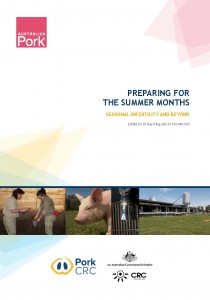 Lactation diet estimator
Developed in the CRC for an Internationally Competitive Pork Industry, the Lactation diet estimator is once again available for download. Producers are able to enter their existing values for Piglet weaning weight and age, litter size weaned and sow feed intake and post-farrow live weight and piglet weight gain and sow energy and Lysine maintenance requirements are calculated. Ten different scenarios can be recorded for gilts and older sows at any one time.
April 30, 2013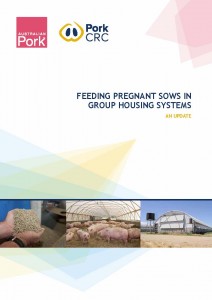 Launched by Pork CRC CEO, Dr Roger Campbell at the 2013 Victorian Pig Fair in Bendigo, the manual was produced with considerable producer input and in conjunction with Australian Pork Limited (APL).
The manual incorporates much of the information which emerged from earlier Pork CRC research, which effectively turned on its head what we previously thought.
We now have solid evidence that increasing feed intake of gestating sows in early pregnancy can increase reproduction and that by increasing feed, less dominant sows get adequate nutrition. This is very important with highly competitive group housed sows. Conversely, Pork CRC research showed increasing feed in late gestation, even for sows with big litters, had little or no effect, so it seems consistent, early feeding is the trick, Dr Campbell said.
July 2008