Use of this website is subject to the disclaimer notice found

here
Transition to Australasian Pork Research Institute Ltd (APRIL)
Since Pork CRC activities will be completed by June 30, 2019, the transition strategy post-CRC to ensure momentum in innovative research is not lost is well advanced through the industry supported company, Australasian Pork Research Institute Ltd (APRIL). APRIL's objective is to support research and adoption that improves sustainable production and efficiency in the pork value chain for the Australian and New Zealand industries. APRIL will also be responsible for delivering results from research outcomes funded by the Pork CRC.
Click here for more information on APRIL
It's the final straw for farrowing
Pork CRC Project 1C-114 ('Reducing sow stress around farrowing'), conducted at University of Adelaide's piggery and Sun Pork Farms SA, showed that providing enrichment 2-3 days before and during farrowing improved sow welfare and piglet survival, with the greatest effects when offered straw and housed in conventional farrowing crates. The results are supported by those of Pork CRC project 1A-111 ('Developing ways to measure and increase sow contentment'), which showed that offering sows small amounts of straw 2 days before farrowing reduced still birth percentage, had positive effects on sow welfare and tended to improve subsequent farrowing rate. Both reports are on Pork CRC website.
Click here for more on Project 1C-114 and here for Project 1A-111
Commercialised Pork CRC research delivered
Addressing the 2019 'Pig Production – Science into Practice' course at the University of Adelaide's Roseworthy campus, Charles Rikard-Bell, Manager, Commercialisation and Research Impact with Pork CRC, explained how early Pork CRC research generated commercial products to provide income to Pork CRC going forward.
Hung Sow Block BEC Piglet Buddy
Dr Rikard-Bell delivered two case studies to the audience of 45 undergraduates and industry participants, including pork producers from across Australia and New Zealand.
Click here for more
Roseworthy pig production course serves up a taste of science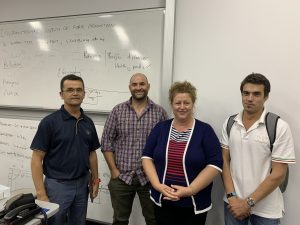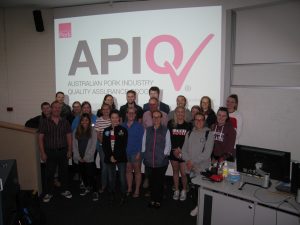 'Pig Production – Science into Practice', an annual course designed to raise understanding of pig production, from conception through to processing and the management required in between, was held at the University of Adelaide's Roseworthy campus from February 4 to 14.
Supported by Pork CRC and Australian Pork Limited, the course was co-ordinated and taught by the University's Senior Lecturer (pigs), Dr Will van Wettere, and attended by 45 people, comprising 21 University of Adelaide undergraduates and 24 industry representatives, including producers from South Australia, Western Australia, Queensland, New South Wales, Victoria and New Zealand.
Click here for more
Positive Pork CRC Outcomes Outlined
Roger Campbell, in his final annual report as Pork CRC CEO, has highlighted positive R&D outcomes, including measuring and enhancing contentment of sows housed in conventional farrowing systems, global interest in a swine dysentery vaccine developed by Murdoch University, research at SARDI which developed an eating quality model for Australian pork and enhanced AusScan calibrations for grains and protein meals.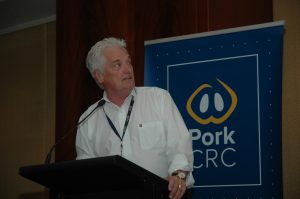 Looking to the future, Dr Roger Campbell says Australia's pork industry will emerge from its current challenging situation stronger and more resilient.
Click here for more