November 2016

Biogas is naturally produced when manure is treated in effluent ponds. Biogas is a good fuel for heating or electricity generation, but requires some treatment/cleaning before use to ensure it is safe and cost effective. This Talking Topic describes methods for cleaning of biogas and associated Pork CRC research activities.
November 2016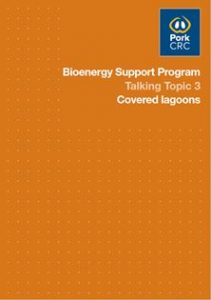 Covered lagoons capture biogas from manure treatment. Biogas is an excellent fuel which can be used at piggeries to produce electricity or for heating. This Talking Topic describes how covered lagoons work, handling of sludge, biogas collection, and associated Pork CRC research activities.
November 2014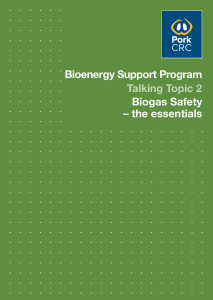 Pork CRC established the Bioenergy Support Program (BSP) in 2012, to support emerging awareness of the importance and potential value of biogas in the pork industry. Work with state-based gas-safety regulators has since paved the way for more practical safety requirements for biogas on-farm. And the many practical experiences of early-adopter producers has been captured and communicated to the broader industry as case study talks and now in the form of BSP Talking Topic booklets. Talking Topic 2, 'Biogas Safety – the essentials', is available now and is all about enjoying the benefits of biogas safely and sustainably.
November 2013

Biogas is a valuable resource that pork producers can tap into to insulate against rising energy costs, value-add the pork production chain, and mitigate emissions and odours associated with piggery effluent. Pork CRC's Bioenergy Support Program initiative enables producers to readily assess their processes for application of biogas capture and utilisation processes. The biogas mixture, consisting mostly of methane and carbon dioxide, is produced when pig manure and spilt feed that drains to an effluent pond are broken down naturally by micro-organisms present in the effluent pond. The methane in biogas is a fuel and when burnt it can produce electricity, produce heat or cool. Learn how to collect the biogas benefits of pig manure by reading the first in a series of Talking Topics, produced by Pork CRC's Bioenergy Support Program.