Mutton announces Peacock appointment to pork body
Australasian Pork Research Institute Limited Chairman Dennis Mutton has announced the appointment of Dr Tony Peacock as an Independent Director.
CEO of the Canberra-based Cooperative Research Centres Association since 2010, Dr Peacock is a former Managing Director of the Pig Research and Development Corporation and was CEO of a successful CRC for a decade.
A reproductive scientist, he holds a Bachelor degree in agriculture and a PhD in veterinary science from the University of Sydney.
Welcoming Dr Peacock to APRIL's June Board meeting in Adelaide, Mr Mutton said he would add a significant skill set to the Board.
Click here for more

Australasian Pork Research Institute Limited Chairman Dennis Mutton (left) welcomed newly appointed APRIL Board member Dr Tony Peacock at APRIL's June Board meeting in Adelaide, South Australia.
Ingot check the rolled gold of feed grain checks
With grain the major and costly ingredient in pig diets and contributing much of the dietary energy, Australian pork producers are increasingly demanding that grains they feed have been accurately measured for their available digestible energy (DE).
According to Pork CRC Commercialisation and Research Impact Manager, Charles Rikard-Bell, this is particularly the case today, with a megajoule (MJ) of digestible energy (DE) worth $20 to $35, depending on the grain price.
"This is why AusScan's pig faecal DE calibration, which predicts the DE of cereal grains with an accuracy of +/- 0.26 MJ, has become vital to pig farming in Australia, as it allows nutritionists to formulate the most cost effective diet," Dr Rikard-Bell said.
A big advantage of using near infrared reflectance spectroscopy (NIRS) calibrations is the speed of the result, with a laboratory with access to AusScan Online able to scan a sample of grain and download results in seconds.
Click here for more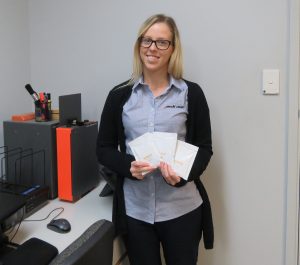 Graduate nutritionist and Pork CRC IPP, Haylee Clifford, with grain samples for AusScan testing in the Alltech Lienert laboratory at Roseworthy, South Australia.

APRIL advises pork research approvals
A first call by Australasian Pork Research Institute Limited (APRIL) for research to enhance the competitiveness and sustainability of the Australasian pork industry has resulted in 14 proposals being funded to a value of almost one million dollars.
All successful proposals included a 20% to 25% cash contribution from applicants, giving a total cash budget for the first round of approximately $1.2 million.
At its April 23 meeting the APRIL Board also approved $100,000 for education in 2018/19, which will support an Industry Placement Program, similar to that successfully initiated in Pork CRC, plus top up postgraduate scholarships and honours projects. The first APRIL honours project has been approved at University of Melbourne.
According to APRIL Interim CEO, Roger Campbell, most R&D proposals were recommended with modification and all applicants have now been advised.
"The research portfolio contains very innovative proposals and provides APRIL with an exciting and positive start, with the first results expected within 12 to18 months," Dr Campbell said.
Click here for more
Weighing up pork production priorities
Addressing pork producers in Western Australia last week at WAPPA's annual Pig Day Out, Pork CRC CEO Roger Campbell said increasing carcase weight was perhaps the greatest opportunity for productivity improvement for Australian pork producers, albeit at a time when many were struggling as prices declined due to apparent over supply.
Dr Campbell suggested that if a business model was developed where $2.70/kg could sustain producers, he was optimistic producers would have a positive future.
"Also, if buyers, including supermarkets, processors and others in the meat chain, could create markets for heavier pigs, producers would respond positively and reap rewards.
"Even grain prices, which are largely beyond a producer's control and which have the heaviest impact on the bottom line, can be mitigated if, for example, other factors affecting cost of production can be better aligned," Dr Campbell said.
"While it's difficult to do much about grain and feed costs, except use the feed more efficiently, the greatest opportunity for reducing COP lies in volume and this is independent of grain price and hence more under producer control.
Click here for more