Why Gradual Weaning Works
Pork CRC Project 1B-103: A project led by Dr Kate Plush, University of Adelaide, showed that lessening sow contact as lactation progressed, could improve the subsequent welfare and production of piglets in the days following weaning. The improved growth from the gradually weaning could be attributed to greater creep feed consumption, less aggression, fewer injuries and a lower cortisol response to weaning.
 Good and bad news on Swine Dysentery
As part of Pork CRC Project 2A 111, Professor David Hampson and colleagues at Murdoch University, Western Australia, conducted a wide ranging survey of Australian pig herds for the presence of two new pathogenic strains (Brachyspira hampsoni and B.suanatina) of swine dysentery (SD)  which were diagnosed recently in the US and Europe. The good news is they found no evidence of either stain. The bad news is SD was widespread and a number of new and seemingly unique Australian strains were discovered, in some herds with no clinical signs of disease and previously thought to be SD negative. Professor Hampson and his team also found that antimicrobial resistance had increased and they reported the existence of three different multi-drug resistant strains.
The bottom line is -producers need to test their herds for SD and Murdoch has the diagnostic capability to do this.
Polyamine Projections for Piglets
Pork CRC Project 1B-102:Polyamine supplementing of piglets, especially compromised ones, in the week before weaning, could improve weight gains and subsequent productivity, according to research led by Dr Will van Wettere, University of Adelaide. This could be achieved by delivering polyamines in additional drinking bowls towards the end of lactation in the farrowing pen and then immediately after weaning.
   Pork CRC Sow Welfare Breakthroughs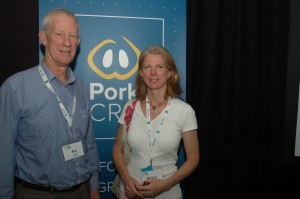 Dr Ray King, leader of Pork CRC Program One, 'Reduced confinement of sows and piglets', with Melina Tensen, RSPCA.
 It's half time for CRC for High Integrity Australian Pork (Pork CRC), having just completed four years of its eight year term under the agreement it has with the Australian Government and the majority of its essential and other participants.
According to CEO, Roger Campbell, major progress and breakthroughs in pig and pork R&D were made across all four of the CRC's programs.
"We've improved the welfare and performance of sows grouped in gestation, we're developing alternative strategies to improve animal health, disease diagnostics and pork eating quality, plus advancing biogas management and grain inputs," Dr Campbell said.
"Australia's pork industry and researchers have led the world in transitioning from stall to group housing of gestating sows, with industry showing the forethought and courage to make the move and our scientists then making it work on a welfare basis for the sow and in terms of reproductive performance for the producer."
Pork CRC scientists are now looking at satiety and enrichment for gestating sows and at the welfare and well-being of sows and their piglets during farrowing and lactation.
"The latter remains a challenging area, but we have the best in world working on it and a very innovative program in place," Dr Campbell said.
According to Melina Tensen, Senior Scientific Officer (Farm Animals), RSPCA Australia, Pork CRC's R&D programs reflect an awareness of emerging issues and responsiveness to growing consumer expectations that may impact the industry.
"Pork CRC's research is essential to the success of alternative farrowing and group housing systems and to farmer uptake of such systems," Ms Tensen said.
"Undoubtedly, thanks to the success of the Pork CRC's group-housing workshops, many pig farmers have implemented housing and feeding systems that best suit them and close to three quarters of gestating sows are now sow-stall free.
"The success of Pork CRC, in addition to the quality of the research, is attributable to the significant resources that major pig producing companies are willing to invest in order to achieve practical, on-farm improvements.
"This and the efforts of every single pig farmer who has transitioned or is still in the process of transitioning to group housing, should be highly commended.
"As Pork CRC's work moves into the next stage, RSPCA remains committed to working with the pig industry and its stakeholders on the challenging journey towards high integrity Australian pork," Ms Tensen said.
Dr Campbell said that in the next four years, Pork CRC would address areas across its four programs where gaps in knowledge still existed, while helping ensure Australia produces the highest quality pork in the world and that Pork CRC continues to help industry differentiate itself from the rest of the world.