Pork CRC Productively Enhancing Pig Welfare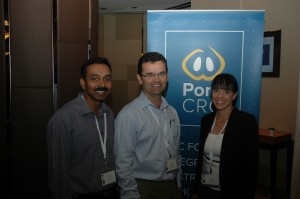 David Isaac BEC Feed Solutions Charles Rikard-Bell Pork CRC Tracy Muller Sunpork Farms
Appetite enhancers for weaners and enrichment blocks for gestating sows and weaners may soon be on the productivity improvement 'menus' for Australia's pork producers.
According to Cooperative Research Centre for High Integrity Australian Pork (Pork CRC) Manager, Commercialisation and Research Impact, Charles Rikard-Bell, BEC Animal Nutrition will look to market the appetite enhancer in the first half of this year and commercialisation work for the enrichment blocks will continue throughout 2016.
A second commercialisation study on a novel appetite enhancer based on the ingredient preferences of weaned pigs was completed in January 2016.
Pork CRC, in conjunction with BEC Animal Nutrition and University of Queensland, has focused on producing commercial quantities of the appetite enhancer which would mix, transport and store easily.
Click here for more
 Pork CRC Pushing Australian Pork Producers Onto World Stage
Australian pork producers are competitive with most of the European Union on cost and with Canada and USA on reproduction and feed efficiency, according to global benchmarking results for calendar year 2014.
This is the encouraging message that Roger Campbell, CEO of the Cooperative Research Centre for High Integrity Australian Pork (Pork CRC) will deliver in his opening address, 'Where we sit internationally and how the best in Australia do it; some good news and opportunities', at the South Australian Pig Industry Day on February 26.
"Indeed, our own Pork CRC benchmarking results also suggest the best Australian producers are a force to be reckoned with and are willing to share their recipes for success to the industry in general," Dr Campbell added.
While admitting it was difficult to match USA and Canada on cost, due to their relatively low cost grain and heavier carcasses, which resulted in low feed and overhead costs per unit of pork produced, he said Australia's pork industry was in a good position and had the capacity to further improve its financial and physical business indicators.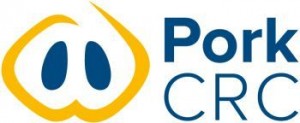 CRC for High Integrity Australian Pork
 We're now calling for 2016 Honours Applications  
Pork CRC continues to support Honours awards on a competitive basis and we're now calling for Honours Applications for 2016. This call closes Friday, February 19, with applications to be considered by Pork CRC's Education Committee the following week.
All applications should be completed and then emailed to Roger Campbell (roger.campbell@porkcrc.com.au) and Rebecca Smith (Rebecca.smith@porkcrc.com.au). Click here for application form.
Want a place in SA pork industry?
The SA government has given Pork CRC a grant of $500,000 to extend our Industry Placement Program in SA. See our December 10 media release 'Funding Boost for SA Pork CRC Industry Placement Program' click here for more details
This is a great opportunity for Pork CRC Participants, particularly those in SA, to bring innovation and new thinking into their businesses and for graduate and postgraduate students across Australia to receive on-the-job training in pork production and related aspects of the business, while continuing to be involved in R&D and in Pork CRC training and mentoring activities.
We urge all University researchers to bring this unique and exciting opportunity to the attention of students and ask that Participants ensure the message gets out to all in the pork supply chain, especially in South Australia.
Applications can be made at any time and are to be completed by the industry 'participant' and should be sent to Roger Campbell (roger.campbell@porkcrc.com.au) . Applications and are not limited to SA businesses. Click here for application form