Free ranging discussions on everything from pig reproduction to pig health management, pig welfare, pig transporting, pork prices, pork marketing and global competitiveness highlighted a lively 2017 WA Pig Day Out.
Attended by about 100 people at Technology Park, Bentley, it was hosted by West Australian Pork Producers Association (WAPPA) and sponsored by Pork CRC, APL, MSD Animal Health, Elanco and Zoetis.
After a revealing presentation on post cervical artificial insemination by Dr Vanessa Morris of Portec Veterinary Services, Portec Principal Dr Kim Nairn built on his 2016 talk on biosecurity by running through a list of emerging on-farm health issues. Click here for more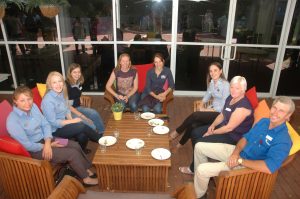 At WA Pig Day Out 2017 Megan Trezona, Ingunn Stensland, Diana Turpin, Karen Moore, Vanessa Morris, Taya Clarke, Emalyn Loudon, Brendan Howard.JPG: Relaxing at the 2017 WA Pig Day Out, Megan Trezona and Ingunn Stensland, both of Linley Valley Pork, Pork CRC PhD candidate Diana Turpin of Murdoch University, Karen Moore of PIWA, Vanessa Morris of Portec, Taya Clarke of Westpork, Emalyn Loudon of PIWA and Brendan Howard, producer of Wannamal
Testing time for Australian pork producers
Despite Australian pork producers achieving commendable productivity gains and consistently good herd feed conversion (HFC) rates, it might not be quite enough to offset the downside of an internationally uncompetitive cost of production (COP).*
This was the blunt warning delivered by CRC for High Integrity Australian Pork CEO, Roger Campbell, in his opening address at the 2017 South Australia Pig Industry Day.
'The marked decline in our global competitiveness compared to 2014 is due to our feed costs going down slightly and those of all other countries going down substantially, resulting in the biggest differences in COP we've seen for 10 years," Dr Campbell said.
"The recent disparity in grain prices and feed costs is unusual and may only be a blip in the usual pattern, which is generally consistent across the globe.
Click here for more

Dr Nishchal Sharma & Dr Roger Campbell.JPG: After addressing the 2017 South Australian Pig Industry Day, Pork CRC CEO Dr Roger Campbell (right) happily caught up with Dr Nishchal Sharma, trainee nutritionist employed by ACE Livestock Consulting under the Pork CRC's SA Government supported Industry Placement Program.
Pork CRC Commercialisation Advances
Cooperative Research Centre for High Integrity Australian Pork (Pork CRC) Manager, Commercialisation and Research Impact, Charles Rikard-Bell, has confirmed that a pipeline of products is being developed which will advance Australia's pork industry, while, in some cases, earning income for ongoing and future research and development.
"Our pipeline has already delivered products such as the Ridley Sow Enrichment Block, which was commercially launched in October last year, after being showcased at the 2016 Pan Pacific Pork Expo. It now has an international patent pending and 170 tonne of product was manufactured in the first batch," Dr Rikard-Bell explained.
"It all comes down to reducing aggression between sows when they are first mixed in groups, which is now common practice in modern Australian pork production, and our sow enrichment blocks are delivering positive, measurable outcomes.
"Excitingly, we are about to commission some promising research into refining the block to suit weaners and finishers, rather than just sows," he said.
Click here for more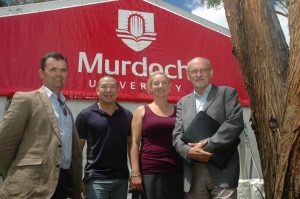 Pork CRC Commercialisation and Research Impact Manager Dr Charles Rikard-Bell (left) met at WA's Murdoch University with Dr Tom La, Dr Nyree Phillips and Professor David Hampson, the team investigating how to identify, track and control swine dysentery in Australian pig herds.



Benefits of Using Biogas
Pork CRC has released a video highlighting the benefits of using biogas for Australian piggeries. The video shows real life examples of technologies, systems, equipment and uses on Australian piggery sites. Follow the link below to view the video.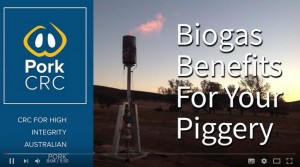 Talking Topic 4
Cleaning Piggery Biogas
Biogas is naturally produced when manure is treated in effluent ponds. Biogas is a good fuel for heating or electricity generation, but requires some treatment/cleaning before use to ensure it is safe and cost effective. This Talking Topic describes methods for cleaning of biogas and associated Pork CRC research activities. Click here to download
Talking Topic 3
Covered Lagoons
Covered lagoons capture biogas from manure treatment. Biogas is an excellent fuel which can be used at piggeries to produce electricity or for heating. This Talking Topic describes how covered lagoons work, handling of sludge, biogas collection, and associated Pork CRC research activities. Click here to download