Pork CRC supported Flinders University post-graduate student Ryan Cheng has been awarded his PhD.
His thesis: 'Exploitation of wastewater grown microalgae for the production of biogas' . To learn more click here.
Robust genetic research to lift efficiency
How to meaningfully measure on-farm animal welfare has baffled animal scientists for a long time, but with the recent understanding that genetics and welfare can have positive links, the race is now on. Pork CRC Project 2B-104, supervised at AGBU, NSW, by Assoc Prof Susanne Hermesch, with assistance from Sarita Guy and Hélène Gilbert, has used genetic modelling to show that while efficiency and robustness are positively related, robustness has only a small effect on pig profitability compared to efficiency traits. To learn more click here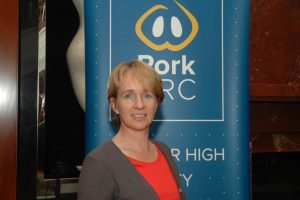 Assoc Prof Susanne Hermesch, Leader, Pork CRC Project 2B-104
Milking sow mating matters
While inducing oestrus and mating sows during lactation can have productivity and welfare benefits a 12 month study on a commercial farm conducted by Rivalea Australia and the University of Sydney (Pork CRC Project 1A-112) and built around substantial earlier research by Pork CRC showed a relatively low level of responders (40%) and a significant reduction in farrowing rate for sows mated in lactation compared with those mated after weaning (78% vs 88%). Most of the reduction was associated with sows mated in lactation during summer. To learn more click here

Dr Rebecca Athorn, Leader, Pork CRC Project 1A-112
Diarrhoea dilemmas discussed
Diarrhoea caused by E. coli disease can devastate piggeries, hence determining key risk factors, minimising outbreaks and appropriately treating impacted pigs will go a long way to improving productivity and profits. A half a million dollar University of Sydney project (2A-106) has come up with some answers. Read all about it here…..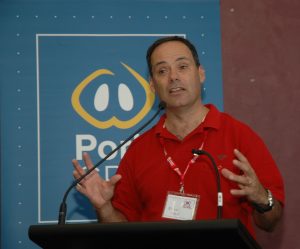 Prof Michael Ward, Leader, Pork CRC Project 2A-106
APRIL meeting in May in WA
Pork CRC Chairman Dennis Mutton and CEO Roger Campbell met with West Australian researchers and industry representatives on Monday, May 1 to workshop opportunities and ideas for innovative R&D as Pork CRC transitions to Australasian Pork Research Institute Limited (APRIL), which commenced in November 2016.
Pork CRC's eighth and final investment round has been completed, with the board supporting 11 of 37 proposals at a total cash value of more than half a million dollars.
The next major investment round will be by APRIL in October-November this year.
According to Dr Campbell, Pork CRC is still open for $50,000 innovation proposals, but these must be very innovative and completed before September 30, 2018.
"So, there's plenty of time for researchers and industry to consider their R&D options and get their good ideas into us, but I stress that proposals must be potentially system changing and/or have realistic revenue generating potential," he said.
Click here for more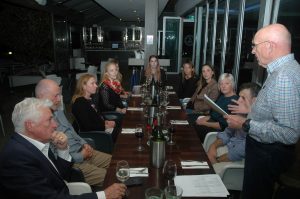 Pork CRC Chairman Dennis Mutton addresses WA researchers and industry representatives on opportunities and ideas for innovative R&D.
Testing time for Australian pork producers
Despite Australian pork producers achieving commendable productivity gains and consistently good herd feed conversion (HFC) rates, it might not be quite enough to offset the downside of an internationally uncompetitive cost of production (COP).*
This was the blunt warning delivered by CRC for High Integrity Australian Pork CEO, Roger Campbell, in his opening address at the 2017 South Australia Pig Industry Day.
'The marked decline in our global competitiveness compared to 2014 is due to our feed costs going down slightly and those of all other countries going down substantially, resulting in the biggest differences in COP we've seen for 10 years," Dr Campbell said.
"The recent disparity in grain prices and feed costs is unusual and may only be a blip in the usual pattern, which is generally consistent across the globe.
Click here for more

After addressing the 2017 South Australian Pig Industry Day, Pork CRC CEO Dr Roger Campbell (right) happily caught up with Dr Nishchal Sharma, trainee nutritionist employed by ACE Livestock Consulting under the Pork CRC's SA Government supported Industry Placement Program.
Pork CRC Commercialisation Advances
Cooperative Research Centre for High Integrity Australian Pork (Pork CRC) Manager, Commercialisation and Research Impact, Charles Rikard-Bell, has confirmed that a pipeline of products is being developed which will advance Australia's pork industry, while, in some cases, earning income for ongoing and future research and development.
"Our pipeline has already delivered products such as the Ridley Sow Enrichment Block, which was commercially launched in October last year, after being showcased at the 2016 Pan Pacific Pork Expo. It now has an international patent pending and 170 tonne of product was manufactured in the first batch," Dr Rikard-Bell explained.
"It all comes down to reducing aggression between sows when they are first mixed in groups, which is now common practice in modern Australian pork production, and our sow enrichment blocks are delivering positive, measurable outcomes.
"Excitingly, we are about to commission some promising research into refining the block to suit weaners and finishers, rather than just sows," he said.
Click here for more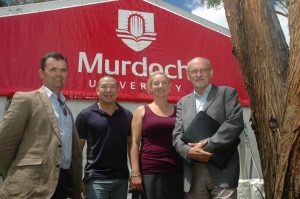 Pork CRC Commercialisation and Research Impact Manager Dr Charles Rikard-Bell (left) met at WA's Murdoch University with Dr Tom La, Dr Nyree Phillips and Professor David Hampson, the team investigating how to identify, track and control swine dysentery in Australian pig herds.

Benefits of Using Biogas
Pork CRC has released a video highlighting the benefits of using biogas for Australian piggeries. The video shows real life examples of technologies, systems, equipment and uses on Australian piggery sites. Follow the link below to view the video.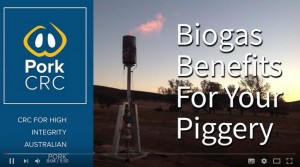 Talking Topic 4
Cleaning Piggery Biogas
Biogas is naturally produced when manure is treated in effluent ponds. Biogas is a good fuel for heating or electricity generation, but requires some treatment/cleaning before use to ensure it is safe and cost effective. This Talking Topic describes methods for cleaning of biogas and associated Pork CRC research activities. Click here to download