Pork CRC and SA Government supports autism and agriculture project and backs people power and animal welfare
Pork CRC and the South Australian government have contributed $150,000 towards a world first initiative by CRC Autism and SunPork Farms to employ autistic adults in animal care positions in the Australian pork industry.
Pilot projects in SA and Queensland will employ a minimum of four autistic adults in animal care positions within SunPork Farms operations in each state.
Collectively, the pilot represents a financial commitment by SunPork Farms, Autism CRC and Specialisterne exceeding $800,000.
Program goals include:
Identifying and employing the diverse skills and talents of adults with autism in animal care
Developing innovative solutions that continue to provide optimal welfare for livestock
Building capacity within the agricultural sector to employ adults with autism
An evaluation of the Autism and Agriculture pilot program by Curtin University, on behalf of Autism CRC, will recommend to the agriculture industry to extend the employment model and animal welfare strategy across Australia and the world.
The projects offers life-changing opportunities for people with autism and for further improvement in the welfare of our livestock.
Pork CRC is proud to be involved with such a game changing project and encourages everyone to make the opportunity known to those who might be eligible for the projects.
Details on the project/positions and how to apply can be obtained by following the links,
Click for  more details – Autism and Agriculture Program                                                                              &   Pig Care Opportunity
 Preparing for the Summer Months – Seasonal Infertility and Beyond
Click here for brochure
Happy Homes for Sassy Sows
Recognising that group housing of gestating sows is here to stay, a targeted Pork CRC project, led by Dr Kate Plush of SARDI, with significant contributions from University of Adelaide researchers and Pork CRC PhD candidate Emma Greenwood, conducted five experiments to see how sow aggression at mixing could be reduced. Space allowance, environmental enrichment, olfactory and diet supplements, plus multi-suckle mixing at late lactation were all considered. The findings were revealing, especially on the enrichment front. To learn more go to 1C-103
Benefits of Using Biogas
Pork CRC has  released a video highlighting the benefits of using biogas for Australian piggeries. The video shows real life examples of technologies, systems, equipment and uses on Australian piggery sites. Follow the link below to view the video.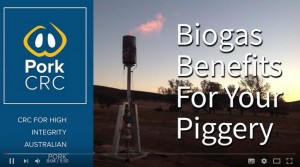 A First For SA Pork CRC
Industry Placement Program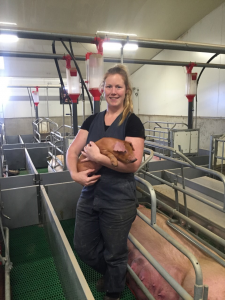 Alice Weaver, whose PhD was supported by the CRC For High Integrity Australian Pork, is the first person to be awarded an Industry Placement Program appointment under the South Australian Government's $500,000 funding to the Pork CRC.
Dr Weaver officially commenced as a Technical Officer at Jeff Braun's 'Myora Farm' at Mt Gambier, SA, on August 3 and will be responsible for the implementation and coordination of the piggery's research and development activities.
Click here for more
Pork CRC Working To Drive Down
Greenhouse Gas Emissions
 A Cooperative Research Centre for High Integrity Australian Pork study has found that greenhouse gas emissions (GHG) are 38 per cent lower in eco-shelters and 88pc of the variability in production systems with common effluent management systems is related to herd feed conversion (HFC).
Click here for more.