Buoyant Mood at 2016 WAPPA AGM & Industry Day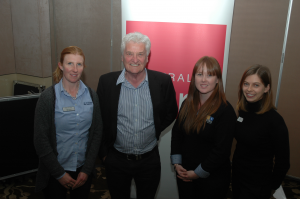 Meg Donahoo of Boehringer Ingelheim, Roger Campbell of Pork CRC, Kate Savage of Portec Veterinary Services and Pork CRC PhD candidate Diana Turpin of Murdoch University enjoyed the 2016 WAPPA Industry Day.
West Australian Pork Producers' Association President, Dawson Bradford, has highlighted the buoyant state of the industry in his report to WAPPA's 2016 AGM.
However, he sounded a note of caution about how possible changes to the 'Standards and Guidelines' (Model Code), once its review is finalised, might affect promising growth opportunities for the WA pig industry.
Mr Bradford, of Popanyinning, was re-elected to WAPPA's Executive Committee, along with fellow producer Graeme Dent of Cuballing, whose terms had expired due to the effluxion of time. Fellow Committee members are Emalyn Loudon of Perth, Torben Soerensen of GD Pork and Dean Romaniello of Craig Mostyn Group.
WAPPA's AGM was part of a very successful 2016 industry day at the International On The Water Hotel at Ascot, which was attended by about 50 producers, industry stakeholders and WAPPA sponsors.
 Speakers included Roger Campbell, Pork CRC, Andrew Spencer and Deb Kerr, APL, Andrew Daff, DAFWA, Kate Savage, Portec, Amanda Vardanega, MSD Animal Health, Meg Donahoo, Boehringer Ingelheim, Tony Heelan of Tony Heelan & Co., Industrial Relations and Management and Rob Wilson, Pork Innovation WA.
Click here for more
Value adding grains and protein meals using AusScan
AusScan and particularly AusScan Online has enabled us to see plenty of interesting results for grains and protein meals globally, while  confirming the need to know what pork producers are using.
Globally, AusScan has been used to determine the faecal and ileal DE on thousands of grains and lysine and other amino acids on nearly 2000 soyabean meal samples, largely through the efforts of AB Vista which runs the service for their customers.
The numbers are not quite as impressive in Australia and I'm not sure what that says about our nutritionists and mills. Some do have the calibrations on their machines but we're not privy to their results or those received by nutritionists on behalf of their clients. However, we're fortunate that Denis McGrath, on behalf of the Feed Grain partnership, has assessed hundreds of wheats and barleys from the 2015-16 harvest.
Click here for more
 A First For SA Pork CRC
Industry Placement Program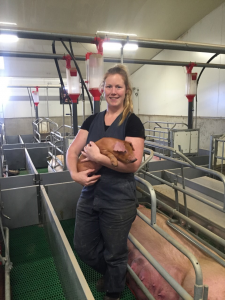 Alice Weaver, whose PhD was supported by the CRC For High Integrity Australian Pork, is the first person to be awarded an Industry Placement Program appointment under the South Australian Government's $500,000 funding to the Pork CRC.
Dr Weaver officially commenced as a Technical Officer at Jeff Braun's 'Myora Farm' at Mt Gambier, SA, on August 3 and will be responsible for the implementation and coordination of the piggery's research and development activities.
Pork CRC CEO Dr Roger Campbell said the SA Government funding was a welcome boost to Pork CRC's existing successful Industry Placement Program (IPP), where it placed supported graduates with industry, in particular with its participants.
Graduates are then trained in the business of pork production and remain active in research and Pork CRC activities. Click here for more
Pork CRC Working To Drive Down
Greenhouse Gas Emissions
 A Cooperative Research Centre for High Integrity Australian Pork study has found that greenhouse gas emissions (GHG) are 38 per cent lower in eco-shelters and 88pc of the variability in production systems with common effluent management systems is related to herd feed conversion (HFC).
Managed by Stephen Wiedemann while with FSA Consulting, Pork CRC Project 4C- 117, 'Environmental impacts and resource use from Australian pork production assessed using life-cycle assessment (LCA)', is the first comprehensive study using LCA to benchmark greenhouse gas emissions from pork across the full production system.
The project included emissions from feed production, housing, manure management and meat processing and assessed 14 production units across different states and different production systems for at least 12 months.
Average emissions to the farmgate were 3.6 kg CO2-e / kg live weight pork and 6.36 +/- 1.03 kg CO2-e / kg wholesale (chilled bone-in) pork. The lowest modelled emissions were from a Queensland production farm using CAP-CHP systems (1.5 kg CO2-e /kg LW), which is similar to Queensland chicken meat production (1.3 kg CO2-e / kg LW).
Click here for more.
New postgraduate seeking employment in industry
Click here for more
Alternative Lactation Housing Systems for Australian Pork Producers

Pork CRC and APL released the industry publication "Alternative Lactation Housing Systems for Australian Pork Producers" at PPPE 2016. It summarises research and experiences with four alternative systems, Combi-Flex pen, 360 farrower, SWAP pen and PIGSAFE pen, while also comparing them with the traditional farrowing crate, based on the sow (behaviour, physiology, body condition and reproduction), the piglet (behaviour, physiology, growth rate and mortality) and the producer (capital cost, labour requirement and OH&S issues). Click here for more
Pork CRC Enhancing Piglet Performance

Piglet Buddy is a formulation based on excellent research on piglet taste preferences conducted for Pork CRC by Dr Eugeni Roura, University of Queensland. It is a low inclusion product (1.5 kg/tonne) to enhance piglet performance immediately after weaning. Piglet Buddy is produced by BEC Feed Solutions. Click here for brochure