CRC for High Integrity Australian Pork
Call for Research Proposals 2016/17 R&D Program
Big Call for Big Ideas
The Cooperative Research Centre for High Integrity Australian Pork (Pork CRC) is on the move, with positive plans to transition to an alternative research entity, after its current funding and Commonwealth Government agreement expires June 30, 2019.
Pork CRC is therefore now calling for highly innovative proposals in our 2016/17 investment round, with priority given to those with revenue generating potential for Pork CRC and eventually the new entity, Australasian Pork Research Institute Limited (APRIL)
We will invest in shorter term projects (maximum 24 months) and innovation projects (12 months) in 2016/17 and beyond.
So, now is the time to make your mark, as we jointly establish a platform that builds on the additional research and training activity generated by Pork CRC for the next four years and beyond. click here  for more details.
World Antibiotic Awareness Week  (Nov 16-22)
Pork CRC Program 2, 'Herd Health Management', aims to not only enhance pig health, but also reduce antibiotic use. The new diagnostics and other strategies our researchers and associates have developed will potentially reduce antimicrobial use and resistance across the pork production sector.  We're working closely with other stakeholders in this space and have, for example, established a relationship with Anatara Life Sciences to explore their technology (Detach) against E. coli disease and piglet scour challenges. Pork CRC applauds the efforts of the World Organisation for Animal Health in raising awareness by promoting the 1st World Antibiotic Awareness Week  (Nov 16-22). Click here for more.
Take Two on Pork for Type 2 Diabetics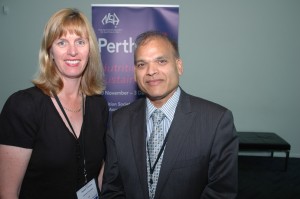 Pork CRC Subprogram 3C Leader, Heather Channon of APL with Professor Manohar Garg at the 2010 scientific meeting of the Nutrition Society of Australia in Perth, where five Pork CRC supported researchers, including Heather, presented papers, under the collective banner 'There's Something About Pork'.
Pork CRC Project 3B-110: Pork Consumption and serum irisin levels in type 2 diabetes
Professor Manohar Garg and his Nutraceuticals Research Group at University of Newcastle, NSW, have provided proof of concept that Type 2 Diabetics who regularly eat pork will not worsen glycemic control or increase their risk of cardiovascular disease. The Pork CRC supported study also found that including pork in the diet resulted in a small, but significant improvement in body composition (muscle mass). The findings were despite no change in the levels of irisin (a hormone secreted during exercise). The findings suggest regular consumption of a pork-enriched high protein diet, despite its failure to stimulate irisin production, may be included in the diets of people with Type 2 diabetes.
Career Changing Course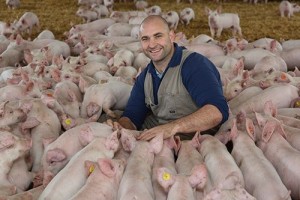 Pork CRC will support travel and accommodation costs for the first 20 producers (or their staff) who register for 2016 Science and Practice of Pig Production course, which runs from January 18 to 29 at the Roseworthy campus of the University of Adelaide.
The very popular course covers everything you need to know about pork production, plus the very latest technologies and information on reproduction, nutrition, health and production in general.
It includes visits to a piggery, feed mill, abattoir and AI centre and practical demonstrations on AI, heat detection and disease diagnosis. Positive feedback from previous participants suggests it's not to be missed and can be career changing.
Contact Course Convenor Dr Will van Wettere at University of Adelaide now to enquire and register, email william.vanwettere@adelaide.edu.au or tel 08 8313 7911. click for Course Content and Registration form and Details for attendees
 Writing On The Wall For Pen Pals

While various efforts to maximise positive welfare outcomes for group housed sows are being employed, using sophisticated genetic selection criteria offers real and measurable hope for improving their behaviours, welfare and commercial performance. Dr Kim Bunter and colleagues have just concluded a study, Pork CRC Project 1C-107, which demonstrated that while developing meaningful selection criteria based on desirable behavioural attributes will be challenging, sophisticated genetic models could be used to identify sows that perform well in groups, but not to the detriment of their 'pen-pals'.
 Commercial Focus for Pork CRC

Pork CRC Manager, Commercialisation and Research Impact,
Dr Charles Rikard-Bell
Projects focussed on improving pig nutrition, enhancing weaner performance, increasing  reproduction and enriching the lives of group housed sows are at various stages of development and commercialisation with the Cooperative Research Centre for High Integrity Australian Pork (Pork CRC).
According to Pork CRC Manager, Commercialisation and Research Impact, Charles Rikard-Bell, the projects range from proof of concept to ready for adoption.
Dr Rikard-Bell said the four key projects which are nearing commercial reality are AusScan Online, a performance enhancer for weaned pigs, patents on improving reproduction and poured blocks to enrich group housed pigs.
Pork CRC CEO, Roger Campbell said all four were well advanced and poised to make a positive impact on Australia's pork industry. click here for more.