Pork CRC and APL released the industry publication "Alternative Lactation Housing Systems for Australian Pork Producers" at PPPE 2016. It summarises research and experiences with four alternative systems, Combi-Flex pen, 360 farrower, SWAP pen and PIGSAFE pen, while also comparing them with the traditional farrowing crate, based on the sow (behaviour, physiology, body condition and reproduction), the piglet (behaviour, physiology, growth rate and mortality) and the producer (capital cost, labour requirement and OH&S issues). Click here for more
Pork CRC Enhancing Piglet Performance

Piglet Buddy is a formulation based on excellent research on piglet taste preferences conducted for Pork CRC by Dr Eugeni Roura, University of Queensland. It is a low inclusion product (1.5 kg/tonne) to enhance piglet performance immediately after weaning. Piglet Buddy is produced by BEC Feed Solutions. Click here for brochure
Pork CRC/APL Student Workshop
at 2016 PPPE Gold Coast Queensland
Welcoming about 30 Pork CRC and APL supported students to a one day workshop at the 2016 Pan Pacific Pork Expo on Tuesday, May 24, Pork CRC CEO Dr Roger Campbell said the 'real work' started once students had finished their studies, whether that be in honours, masters, PhD, post-doc, or if they were part of the Pork CRC's Industry Placement Program (IPP). "When you finish you probably know as much as anyone about the area you've studied, so it's then up to you to sell yourselves and PPPE is an ideal opportunity, with most of the industry's key players in attendance". Dr Campbell added that he was proud to report that about 90% of students from the inaugural Pork CRC now had jobs within the industry. "With the quality of students we have in the current CRC for High Integrity Australian Pork and the very refined focus of our programs, I'm sure we'll enjoy similar outcomes once this CRC winds up and we transition," he added.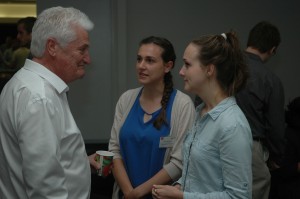 Pork CRC CEO Dr Roger Campbell chats to University of Adelaide student Alice Rainsford and Pork CRC IPP Tanya Nowland of SARDI.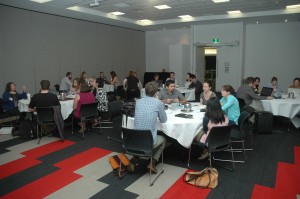 Students worked in groups during the Pork CRC/APL student workshop at PPPE 2016.