Farrowing fun makes for contented sows
Innovative research in Pork CRC Project 1A -111 by scientists from University of Melbourne , Rivalea Australia, SARDI and Sun Pork Farms into the contentment/affective state of sows housed in traditional farrowing systems suggested that providing enrichment as straw or lucerne hay two days before farrowing might enhance the affective state of older sows and certainly reduce still birth rate.
Click here for more
Positively gas guzzling projects
Pork CRC's Bioenergy Support Program (BSP) has significantly progressed the industry's aim of reducing greenhouse gas emissions (CO2 equivalents) from 3.6 kg/kg in 2010 to near 1.3 kg/kg pork produced in 2021. Pork CRC Project 4C-116, captures the achievements of several Pork CRC BSP projects, including how odour and power costs have been reduced by piggeries adopting Biogas capture and using methane to generate heat and power. There's also lists of all suppliers and companies involved in the installation of covers and equipment for lagoons and engineered digesters.
Click here for more
Pork up a Mediterranean diet & dish up healthy option
Including two to three serves of fresh, lean pork a week as part of a healthy Mediterranean diet may have beneficial health effects in overweight individuals on vascular function, particularly blood pressure, a key risk factor for cardiovascular disease. This was the finding of Dr Karen Murphy and her team at University of South Australia from Pork CRC Project 3B-113. With pork lower in saturated fat than beef it may offer a suitable alternative meat protein source to red meat in a Mediterranean dietary pattern for Australians
Click here for more
Animal welfare cast in bronze by Pork CRC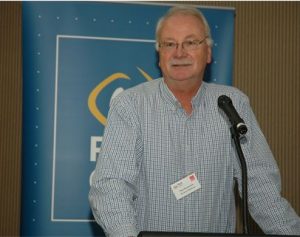 Animal welfare was the focus of Pork CRC's bronze sponsorship of 'Animal Production 2018', the 32nd biennial conference of the Australian Society of Animal Production.
Held over three days in July at Charles Sturt University, Wagga Wagga, New South Wales, its theme was 'Fostering innovation through the value chain'.
Pork CRC Manager, Commercialisation and Research Impact, Charles Rikard-Bell, who attended and represented the Cooperative Research Centre for High Integrity Australian Pork, said the theme was a perfect fit, as Pork CRC's four programs were all about innovation up and down the value chain.
This was particularly the case with Program One, 'Reduced confinement of sows and piglets', which focussed on developing innovative sow and piglet management and housing systems that progressively relied on less confinement to optimise sow and piglet welfare, while maintaining production efficiency and profitability.
Click here for more
Ingot check the rolled gold of feed grain checks
With grain the major and costly ingredient in pig diets and contributing much of the dietary energy, Australian pork producers are increasingly demanding that grains they feed have been accurately measured for their available digestible energy (DE).
According to Pork CRC Commercialisation and Research Impact Manager, Charles Rikard-Bell, this is particularly the case today, with a megajoule (MJ) of digestible energy (DE) worth $20 to $35, depending on the grain price.
"This is why AusScan's pig faecal DE calibration, which predicts the DE of cereal grains with an accuracy of +/- 0.26 MJ, has become vital to pig farming in Australia, as it allows nutritionists to formulate the most cost effective diet," Dr Rikard-Bell said.
A big advantage of using near infrared reflectance spectroscopy (NIRS) calibrations is the speed of the result, with a laboratory with access to AusScan Online able to scan a sample of grain and download results in seconds.
Click here for more