Transition to Australasian Pork Research Institute Ltd (APRIL)
Since Pork CRC activities will be completed by June 30, 2019, the transition strategy post-CRC to ensure momentum in innovative research is not lost is well advanced through the industry supported company, Australasian Pork Research Institute Ltd (APRIL). APRIL's objective is to support research and adoption that improves sustainable production and efficiency in the pork value chain for the Australian and New Zealand industries. APRIL will also be responsible for delivering results from research outcomes funded by the Pork CRC.
Click here for more information on APRIL
Boars doing the milk run
Pork CRC Project 1A-118, conducted by The University of Adelaide and Rivalea Australia, set out to see how exposing sows to four days of fence line boar attention in the last week of lactation affected the weaning to mating interval and subsequent litter performance. Results highlighted a couple of areas where reproductive performance might be enhanced or where inefficiencies existed. These included sows ovulating before weaning and sows expressing oestrus shortly after weaning.
To learn what was exposed, click here to access the project summary and click here to access the final report.
Research grant to help improve stress resilience in pigs
Australasian Pork Research Institute Limited, The University of Melbourne, The University of Queensland, SunPork Solutions and Rivalea Australia have secured an Australian Research Council Linkage grant to support a $900,000 research project to improve pig welfare by modulating stress resilience. ARC funding for the three-year project, 'Early stress experiences and stress resilience in pigs', was $450,000 with an additional $449,393 cash from other partners, of which $100,000 was from APRIL. APRIL CEO and Chief Scientist John Pluske said the ARC grant was very significant, with improving pig welfare a hot button issue in the Australasian pork industry.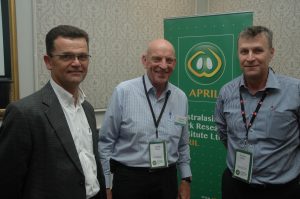 Click here for more
AusScan Energising Feed Grain Evaluation
AusScan calibrations for pig faecal digestible energy and ileal DE for cereal grains have been upgraded on completion of Pork CRC Project 4B-117, 'Strengthening the AusScan pig DE, DE intake index NIR calibrations'. The project determined pig ileal and faecal DE and faecal DE intake index of 67 new grains: 22 wheat, 13 barley, 8 triticale, 4 sorghum and 20 maize samples. Improved accuracy and robustness were also achieved by adding this data, according to Charles Rikard-Bell, Manager Commercialisation and Research Impact, with Australasian Pork Research Institute Limited (APRIL). "The NIR calibrations show significant improvement due to the larger number of new samples and range of cereals added," Dr Rikard-Bell said. Since the last update in 2013, significant new cereal data has been added to the calibration dataset. The revised calibrations have improved the faecal DE prediction by 22 per cent and can now also predict the faecal DE of maize.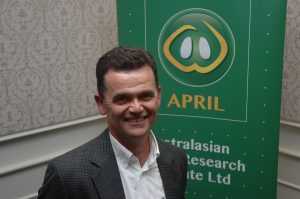 Click here for more
Pork CRC & APRIL Stakeholders' Day

Pork CRC Communications Manager, Brendon Cant, was in Melbourne for the Pork CRC & APRIL Stakeholders' Day & AGMs. Australian Pork Newspaper kindly published a full page of Brendon's pictures in its December 2018 issue.
Click here for more
Positive Pork CRC Outcomes Outlined
Roger Campbell, in his final annual report as Pork CRC CEO, has highlighted positive R&D outcomes, including measuring and enhancing contentment of sows housed in conventional farrowing systems, global interest in a swine dysentery vaccine developed by Murdoch University, research at SARDI which developed an eating quality model for Australian pork and enhanced AusScan calibrations for grains and protein meals.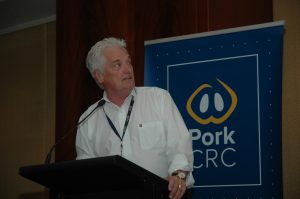 Looking to the future, Dr Roger Campbell says Australia's pork industry will emerge from its current challenging situation stronger and more resilient.
Click here for more