WAPPA PIG DAY OUT
Research and development underpinning modern pork production systems was highlighted at the 2015 Pig Day Out, co-hosted by West Australian Pork Producers' Association (WAPPA) and Department of Agriculture and Food WA (DAFWA). Read More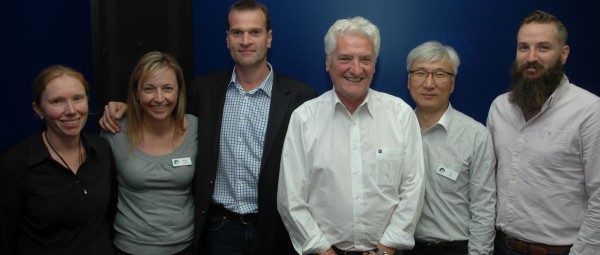 Pork CRC's CEO, Roger Campbell and WAPPA President, Richard Evison with Pork CRC supported researchers, Karen Moore, Megan Trezona, Jae Kim and Cameron Jose  .
Armed and Ready for Action
Freshly armed with an Honours Thesis which goes to the very heart of where much of today's pig production sector is going, Murdoch University Graduate Yvonne Lau is looking for work and keen to make her mark. Supervised by Dr Trish Fleming, Yvonne's Pork CRC supported Honours project assessed how intensively raised and outdoor raised piglets behaved at weaning. Her study demonstrated that piglets reared in outdoor and farrowing systems differed in their behavioural responses to isolation (novel arena test), interacting with a ball (novel object) and being provided with food, but did not differ in terms of social interaction. The study is important because it is believed that a pig's start  in life will affect how it develops and subsequently performs in production terms, especially when placed in stressful situations.
Click here to find out more about Yvonne and her work and career ambitions.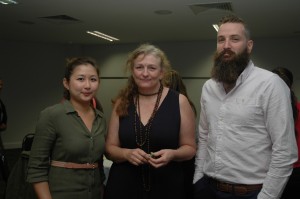 Yvonne with her supervisor, Trish Fleming and their Murdoch University colleague, former Pork CRC postdoc, Cameron Jose, at a recent event in WA
APSA 2015

 Click here to download the new template
To submit an abstract click here.
To  submit an international travel scholarship application click here.

The goal of the conference is to bring together many of the leading scientific voices and facilitate cross-border collaboration, new project development and technology transfer – with a focus on the delivery of a diverse range of tropical and subtropical agricultural scientific advances for the food, plant and animal industries.
The conference is designed to focus on research advances within the agriculture industries located in the subtropics and tropics including livestock (beef, dairy, pork, poultry) grain and pulse crops, sugarcane and horticultural crops. We anticipate the research will cover a diverse range of aspects that are both pre-farm gate and post-farm gate but with a clear focus on agricultural products most of which are used for food.
Call for abstracts is now open and closes on April 30
General enquiries:  enquiries@tropagconference.com.au