Megan's Moment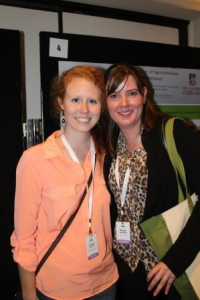 Congratulations to Pork CRC supported PhD candidate, Megan Hawley of Flinders University (at right in picture above), who recently won the $500 best poster award at the 2014 Bioenergy Australia Conference  held in Adelaide.
Megan's poster, titled Aerobic treatment as an enabling technology for algal biomass production, was based on her Pork CRC Program 4 PhD project, Advanced integrated treatment of pig slurry for algal biomass production and improved pig health.
According to Megan, Australia' pork industry is actively looking to reduce its environmental impact, particularly associated with greenhouse gas emissions. Her project is in response to the recommendation of the Pork CRC commissioned review 'Algae for Energy & Feed: a wastewater solution', which recommended research into the integrated treatment of piggery slurry, including investigation of the potential for algae to further treat the wastewater and as a source of biomass for energy production.
Program 4 – Carbon conscious nutrient inputs and outputs aims to reduce the carbon footprint of pork production to 1 kg CO2 equivalents per kg of pork produced.
Pork CRC CEO, Dr Roger Campbell, said everyone involved with Pork CRC was very proud of Megan and delighted with her win, which again underlined the emphasis Pork CRC placed on its higher education commitment, which ran across all of its programs.
Pork CRC has successfully completed five postdoctoral programs, seven postgraduate projects and 46 undergraduate (Honours awards) projects.
Dr Campbell said all Pork CRC supported students had done extremely well in 2014 and he wished the students and their supervisors, a happy and safe Christmas and an enjoyable break.
Hold this Date

APSA 2015
15th Biennial Conference
Registrations will open – April 2015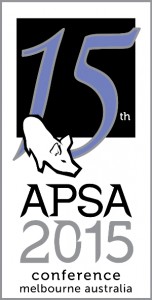 Submissions for the Extended Abstracts
(formerly one page papers)
Open Now