Pork CRC Commercialisation Advances
Cooperative Research Centre for High Integrity Australian Pork (Pork CRC) Manager, Commercialisation and Research Impact, Charles Rikard-Bell, has confirmed that a pipeline of products is being developed which will advance Australia's pork industry, while, in some cases, earning income for ongoing and future research and development.
"Our pipeline has already delivered products such as the Ridley Sow Enrichment Block, which was commercially launched in October last year, after being showcased at the 2016 Pan Pacific Pork Expo. It now has an international patent pending and 170 tonne of product was manufactured in the first batch," Dr Rikard-Bell explained.
"It all comes down to reducing aggression between sows when they are first mixed in groups, which is now common practice in modern Australian pork production, and our sow enrichment blocks are delivering positive, measurable outcomes.
"Excitingly, we are about to commission some promising research into refining the block to suit weaners and finishers, rather than just sows," he said.
Click here for more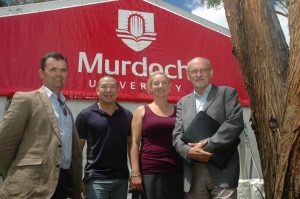 Pork CRC Commercialisation and Research Impact Manager Dr Charles Rikard-Bell (left) met at WA's Murdoch University with Dr Tom La, Dr Nyree Phillips and Professor David Hampson, the team investigating how to identify, track and control swine dysentery in Australian pig herds.



Staying cool and cosy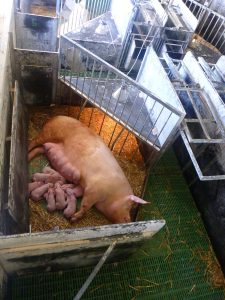 Providing cool pads in the creep area and additional fan in the nest area during summer had little effect on sow or piglet performance in PigSAFE or SWAP pens during lactation.
For the latest research on modifying freedom type farrowing pens for Australian conditions – Project 1A 109.
Preparing for the Summer Months – Seasonal Infertility and Beyond
Click here for brochure
Happy Homes for Sassy Sows
Recognising that group housing of gestating sows is here to stay, a targeted Pork CRC project, led by Dr Kate Plush of SARDI, with significant contributions from University of Adelaide researchers and Pork CRC PhD candidate Emma Greenwood, conducted five experiments to see how sow aggression at mixing could be reduced. Space allowance, environmental enrichment, olfactory and diet supplements, plus multi-suckle mixing at late lactation were all considered. The findings were revealing, especially on the enrichment front. To learn more go to 1C-103
Benefits of Using Biogas
Pork CRC has released a video highlighting the benefits of using biogas for Australian piggeries. The video shows real life examples of technologies, systems, equipment and uses on Australian piggery sites. Follow the link below to view the video.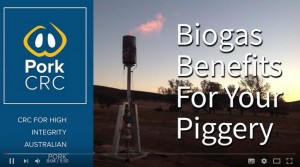 Pork CRC Working To Drive Down
Greenhouse Gas Emissions
A Cooperative Research Centre for High Integrity Australian Pork study has found that greenhouse gas emissions (GHG) are 38 per cent lower in eco-shelters and 88pc of the variability in production systems with common effluent management systems is related to herd feed conversion (HFC).
Click here for more.
Talking Topic 4
Cleaning Piggery Biogas
Biogas is naturally produced when manure is treated in effluent ponds. Biogas is a good fuel for heating or electricity generation, but requires some treatment/cleaning before use to ensure it is safe and cost effective. This Talking Topic describes methods for cleaning of biogas and associated Pork CRC research activities. Click here to download
Talking Topic 3
Covered Lagoons
Covered lagoons capture biogas from manure treatment. Biogas is an excellent fuel which can be used at piggeries to produce electricity or for heating. This Talking Topic describes how covered lagoons work, handling of sludge, biogas collection, and associated Pork CRC research activities. Click here to download