Call for research proposals – APRIL

Australasian Pork Research Institute Ltd
Australasian Pork Research Institute Limited (APRIL) is calling for research proposals for its first investment round.
The call will close on February 16, 2018 and investment decisions will be made on April 23, 2018.
Successful projects will commence on July 1, 2018.
Click here for more
Don't worry be happy
Brain-derived neurotrophic factor (BDNF) is thought to be positively associated with the affective state (where stress is reduced) in rodents and humans, but less information is available for pigs. Pork CRC Project 1C-119, led by University of Melbourne and supported by PIRSA/SARDI, showed that BDNF increased in piglets provided with 'enrichment blocks' before and after weaning, with enrichment before weaning having a larger and longer lasting effect.
Click here for more
Productive Pork CRC for all to see
Although approaching its wind-up phase, the Cooperative Research Centre for High Integrity Australian Pork had another very productive year in 2016/17, in terms of research outcomes and raising the capability of researchers supporting the industry, including industry itself taking on employees through the Pork CRC's acclaimed industry placement program.
In his 2016/17 Chairman's report, released to Pork CRC participants at its annual Stakeholders' Day in Melbourne on November 18, Dennis Mutton acknowledged the importance of not only having great research outcomes, but also the capacity to put results into practice along the value chain was critical to success.
Click here for more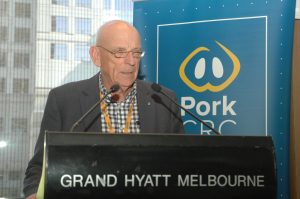 Pork CRC Chairman Dennis Mutton delivers Pork CRC's 2016/17 results at its 2017 Stakeholders' Day in Melbourne
Suckling sows not into groups
Pork CRC project 1B-105, conducted at SunPork Farms in South Australia, revealed that when sows and their litters were grouped 13 days before weaning at 28 days, sows and their litters were adversely affected. Along with sow aggression at mixing, piglets also underperformed at weaning and 30 days post-weaning. Bottom line is that Dr David Lines and his team found that efforts to reduce the time sows spend confined during lactation just might be counter productive. Click here for more
Prime time for pork packaging improvement
Pork CRC supported research (Project 3A-118) to determine how packaging impacts the ageing and eating quality if pork, suggests retailers should consider alternative packaging methods such as vacuum packaging and innovative vacuum skin packaging. To learn more about what Dr Minh Ha and his team at University of Melbourne found
Click here for more
Career Changing Course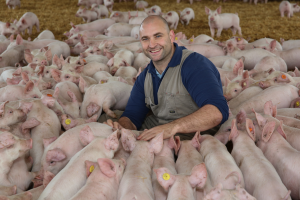 Pork CRC will support travel and accommodation costs for the first 15 producers (or their staff) who register – All the Pork CRC funded places have been filled for the 2018 Science and Practice of Pig Production course, January 29 to February 9 (Incl), at the Roseworthy campus of the University of Adelaide.
The very popular course covers everything you need to know about pork production, plus the very latest technologies and information on reproduction, nutrition, health and production in general.
It includes visits to a piggery, abattoir and Al centre, plus practical demonstrations on Al, heat detection and disease diagnosis. Positive feedback from previous participants suggests it's not to be missed and can be career changing.
Contact Course Convenor Dr Will van Wettere at University of Adelaide now to enquire and register, email William.vanwettere@adelaide.edu.au or Tel 08 8313 7911.
Click for Registration Form , Details for attendees. and Agenda