Suckling sows not into groups
Pork CRC project 1B-105, conducted at SunPork Farms in South Australia, revealed that when sows and their litters were grouped 13 days before weaning at 28 days, sows and their litters were adversely affected. Along with sow aggression at mixing, piglets also underperformed at weaning and 30 days post-weaning. Bottom line is that Dr David Lines and his team found that efforts to reduce the time sows spend confined during lactation just might be counter productive. Click here for more
AusScan on the move
AusScan is gaining momentum globally, with scan numbers increasing from 2200 in the 2015 launch year to 11,882 in 2016 and on target to eclipse 22,000 scans in 2017.
This indicates customers are valuing AusScan's world first calibrations for pig digestible energy (DE), poultry apparent metabolisable energy (AME) and ruminant metabolisable energy (ME) for cereal grains, as well as all amino acids, including reactive lysine in soybean and canola meals.
AusScan uses unique near infrared reflectance spectroscopy (NIRS) calibrations.
According to globally respected animal nutritionist Tony Edwards, principal of South Australia based ACE Livestock Consulting, the undersupply or oversupply of energy in diets can result in further increased costs due to reduced performance of livestock.
"Accessing AusScan calibrations provides nutritionists with the digestible energy of grains before feeding livestock, allowing more accurate formulations," he said.
Click here for more
Prime time for pork packaging improvement
Pork CRC supported research (Project 3A-118) to determine how packaging impacts the ageing and eating quality if pork, suggests retailers should consider alternative packaging methods such as vacuum packaging and innovative vacuum skin packaging. To learn more about what Dr Minh Ha and his team at University of Melbourne found
Click here for more
Pork CRC Benchmarking Producers Progressing
Pork CRC benchmarking results for 2016-17 are in and the progress achieved by Australian pork producers has impressed CEO Roger Campbell.
"I'm very happy with the progress made over time, especially in reproduction," Dr Campbell said.
"We now have Australian herds exceeding 11 weaned per litter and 26 plus weaned per mated female per year.
"The trends in born alive, number weaned and weaned per mated sow per year have also been very positive over the past six to seven years, with individual herds achieving exceptional improvement year on year."
Pork CRC held its last Benchmarking Project meeting in Melbourne this week (October 16 & 17), having commenced 10 years ago at a time when the majority of Australia's pork producers, even those achieving commendable productivity levels, did not know how they were tracking compared with their competitors, both locally and overseas.
Click here for more
Career Changing Course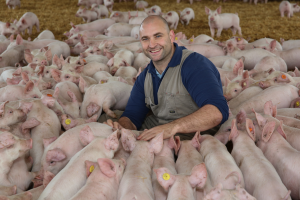 Pork CRC will support travel and accommodation costs for the first 15 producers (or their staff) who register for the 2018 Science and Practice of Pig Production course, January 29 to February 9 (Incl), at the Roseworthy campus of the University of Adelaide.
The very popular course covers everything you need to know about pork production, plus the very latest technologies and information on reproduction, nutrition, health and production in general.
It includes visits to a piggery, abattoir and Al centre, plus practical demonstrations on Al, heat detection and disease diagnosis. Positive feedback from previous participants suggests it's not to be missed and can be career changing.
Contact Course Convenor Dr Will van Wettere at University of Adelaide now to enquire and register, email William.vanwettere@adelaide.edu.au or Tel 08 8313 7911.
Click for Registration Form and Details for attendees.
Another Workplace Agreement on Pork CRC Industry Placement Program
Veterinarian Stephanie Nicholas, who commenced work in Western Australia this week with Portec Veterinary Services, is the latest in a long line of Pork CRC Industry Placement Program appointments.
Dr Nicholas, who graduated from Murdoch University in December 2015 with Bachelor of Veterinary Medicine and Surgery (BVMS) and Bachelor of Science Veterinary Biology (BSc), has already completed several externships with Portec.
Portec Principal and veterinarian, Kim Nairn said her appointment would further enhance Portec's capacity for developing training for Murdoch veterinary students and making more resources available to Australian pork producers to help ensure healthy, sustainable and, hopefully, profitable pig production enterprises.
Since 2007, Portec has designed and delivered the intensive animal industries component of the veterinary undergraduate degree at Murdoch. To learn more click here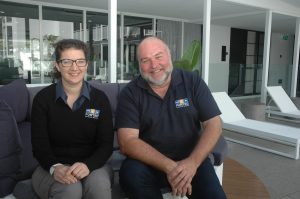 Veterinarian Stephanie Nicholas with Portec Veterinary Services principal and fellow veterinarian Kim Nairn. Dr Nicholas is the latest Pork CRC Industry Placement Program appointment.