Pork up a Mediterranean diet & dish up healthy option
Including two to three serves of fresh, lean pork a week as part of a healthy Mediterranean diet may have beneficial health effects in overweight individuals on vascular function, particularly blood pressure, a key risk factor for cardiovascular disease. This was the finding of Dr Karen Murphy and her team at University of South Australia from Pork CRC Project 3B-113. With pork lower in saturated fat than beef it may offer a suitable alternative meat protein source to red meat in a Mediterranean dietary pattern for Australians
Click here for more
Animal welfare cast in bronze by Pork CRC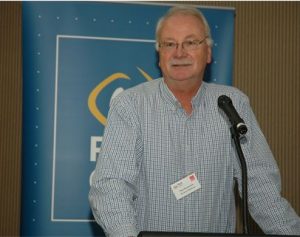 Animal welfare was the focus of Pork CRC's bronze sponsorship of 'Animal Production 2018', the 32nd biennial conference of the Australian Society of Animal Production.
Held over three days in July at Charles Sturt University, Wagga Wagga, New South Wales, its theme was 'Fostering innovation through the value chain'.
Pork CRC Manager, Commercialisation and Research Impact, Charles Rikard-Bell, who attended and represented the Cooperative Research Centre for High Integrity Australian Pork, said the theme was a perfect fit, as Pork CRC's four programs were all about innovation up and down the value chain.
This was particularly the case with Program One, 'Reduced confinement of sows and piglets', which focussed on developing innovative sow and piglet management and housing systems that progressively relied on less confinement to optimise sow and piglet welfare, while maintaining production efficiency and profitability.
Pork CRC Subprogram 1C leader, Professor Paul Hemsworth of University of Melbourne, delivered the Barnett Memorial Lecture at the first day's final session 'Consumer demands and welfare', which was sponsored by Pork CRC.
The main conclusion from his lecture, titled 'Key determinants of pig welfare: implications of animal management and housing design on livestock welfare', was that group housing provided welfare advantages in most situations.
Prof Hemsworth said it was clear from Pork CRC research that appropriate housing design, good management and stockmanship were three key drivers of successful group housing.
Design factors covered by his lecture involved research in areas of floor spacing, feeding systems, time of mixing, restrictive feeding and environmental enrichment.
Click here for more

APRIL 1st Call for Industry Placement Awards
APRIL Board has approved $100,000 for education in 2018/19 to support an Industry Placement Program (IPP) similar to that successfully initiated in Pork CRC, plus top-up postgraduate scholarships and honours projects. APRIL Education Committee will make at least one call and potentially two (depending on budget) annually for IPP awards. The first IPP call opens July 1 and closes July 31, 2018. APRIL will provide the successful business applicant with $70,000 over the first two years to help cover salary and other costs associated with training the graduate/postgraduate for three years. APRIL's inaugural Education Committee comprises: Prof Frank Dunshea (Chair), University of Melbourne, Prof John Pluske, Murdoch University, Dr Eugeni Roura, University of Queensland, Dr Darryl D'Souza SunPork, Dr Rob Smits, Rivalea, Ms Heather Channon, APL and Dr Charles Rikard-Bell, Pork CRC.
For requirements, click here, for application, click here, Preliminary enquiries, email c.rikardbell@april.org.au
Mutton announces Peacock appointment to pork body
Australasian Pork Research Institute Limited Chairman Dennis Mutton has announced the appointment of Dr Tony Peacock as an Independent Director.
CEO of the Canberra-based Cooperative Research Centres Association since 2010, Dr Peacock is a former Managing Director of the Pig Research and Development Corporation and was CEO of a successful CRC for a decade.
A reproductive scientist, he holds a Bachelor degree in agriculture and a PhD in veterinary science from the University of Sydney.
Welcoming Dr Peacock to APRIL's June Board meeting in Adelaide, Mr Mutton said he would add a significant skill set to the Board.
Click here for more

Australasian Pork Research Institute Limited Chairman Dennis Mutton (left) welcomed newly appointed APRIL Board member Dr Tony Peacock at APRIL's June Board meeting in Adelaide, South Australia.
Ingot check the rolled gold of feed grain checks
With grain the major and costly ingredient in pig diets and contributing much of the dietary energy, Australian pork producers are increasingly demanding that grains they feed have been accurately measured for their available digestible energy (DE).
According to Pork CRC Commercialisation and Research Impact Manager, Charles Rikard-Bell, this is particularly the case today, with a megajoule (MJ) of digestible energy (DE) worth $20 to $35, depending on the grain price.
"This is why AusScan's pig faecal DE calibration, which predicts the DE of cereal grains with an accuracy of +/- 0.26 MJ, has become vital to pig farming in Australia, as it allows nutritionists to formulate the most cost effective diet," Dr Rikard-Bell said.
A big advantage of using near infrared reflectance spectroscopy (NIRS) calibrations is the speed of the result, with a laboratory with access to AusScan Online able to scan a sample of grain and download results in seconds.
Click here for more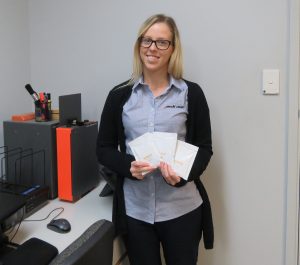 Graduate nutritionist and Pork CRC IPP, Haylee Clifford, with grain samples for AusScan testing in the Alltech Lienert laboratory at Roseworthy, South Australia.

APRIL advises pork research approvals
A first call by Australasian Pork Research Institute Limited (APRIL) for research to enhance the competitiveness and sustainability of the Australasian pork industry has resulted in 14 proposals being funded to a value of almost one million dollars.
All successful proposals included a 20% to 25% cash contribution from applicants, giving a total cash budget for the first round of approximately $1.2 million.
At its April 23 meeting the APRIL Board also approved $100,000 for education in 2018/19, which will support an Industry Placement Program, similar to that successfully initiated in Pork CRC, plus top up postgraduate scholarships and honours projects. The first APRIL honours project has been approved at University of Melbourne.
According to APRIL Interim CEO, Roger Campbell, most R&D proposals were recommended with modification and all applicants have now been advised.
"The research portfolio contains very innovative proposals and provides APRIL with an exciting and positive start, with the first results expected within 12 to18 months," Dr Campbell said.
Click here for more