Pork CRC/APL Student Workshop
at 2016 PPPE Gold Coast Queensland
Welcoming about 30 Pork CRC and APL supported students to a one day workshop at the 2016 Pan Pacific Pork Expo on Tuesday, May 24, Pork CRC CEO Dr Roger Campbell said the 'real work' started once students had finished their studies, whether that be in honours, masters, PhD, post-doc, or if they were part of the Pork CRC's Industry Placement Program (IPP). "When you finish you probably know as much as anyone about the area you've studied, so it's then up to you to sell yourselves and PPPE is an ideal opportunity, with most of the industry's key players in attendance". Dr Campbell added that he was proud to report that about 90% of students from the inaugural Pork CRC now had jobs within the industry. "With the quality of students we have in the current CRC for High Integrity Australian Pork and the very refined focus of our programs, I'm sure we'll enjoy similar outcomes once this CRC winds up and we transition," he added.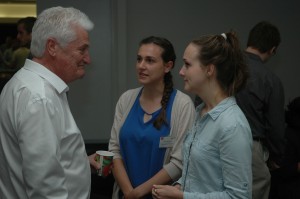 Pork CRC CEO Dr Roger Campbell chats to University of Adelaide student Alice Rainsford and Pork CRC IPP Tanya Nowland of SARDI.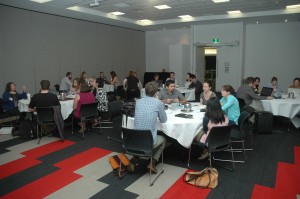 Students worked in groups during the Pork CRC/APL student workshop at PPPE 2016.
Pork CRC Project Encapsulates
Environmental & Performance Advantages
For Young Pigs
A final report on Pork CRC project 2C-118 by Rob Hewitt of SunPork Farms Solutions shows that feeding weaner pigs essential oils and organic acids in a microencapsulated form can enhance feed conversion and growth. The results support using two diets in the first four weeks after weaning and showed that in the first two weeks the protected ZnO product could replace 3000 ppm ZnO with minimal adverse effect on growth performance and substantially reduce Zn excretion. The protected essential oil material appears to have considerable potential as a performance enhancer in second stage weaner diets. Both materials are produced by Jefo and distributed in Australia by Jefo Australia.
 
WAPPA Pig Day Out 2016
An insightful reflection by animal nutritionist Tony Edwards of ACE Livestock Consulting on how the past 30 years of research has benefited pork producers set the scene for a vibrant 2016 Pig Day Out, attended by about 100 people and hosted by West Australian Pork Producers' Association (WAPPA) and Department of Agriculture and Food WA (DAFWA) on Friday, April 8 at Technology Park, Bentley.
Quoting fascinating statistics, such as the rise in average daily weight gain from 450gm in the 1970s to 700gm today, pigs produced per sow per year from 16 to 24 and kilograms of meat produced per sow per year from 960kg to 1800kg, Mr Edwards noted that pork production technology had advanced rapidly.
"However, we need to constantly improve to remain competitive and the main driver of improvements will be scientific research. There is still much more to uncover and we are currently well short of the biological potential of the pig," he said.
Addressing the issue of where Australia sits in the global pig and pork productivity and profitability stakes, Pork CRC CEO Roger Campbell said the Australian industry was currently one of the most profitable and vibrant in the world. Click here for more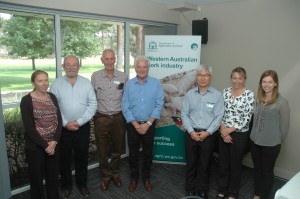 Karen Moore, Tony Edwards, Hugh Payne, Roger Campbell, Jae Kim, Megan Trezona, Diana Turpin
APRIL OPEN FOR BUSINESS 
The Australasian Pork Research Institute Ltd (APRIL) is the company which will replace Pork CRC in 2019-2020.
APRIL will attempt to maintain the additional research activity and training developed by two Pork CRCs over the period 2005 -2016 and through to 2018-2019.
To prevent any marked decline in research activity during the wind-down and finish of the CRC for High Integrity Australian Pork and commencement of APRIL in 2019-2020, it is important APRIL begin investing in research and training well before 2019-2020 and initially this will be through and in conjunction with Pork CRC.
APRIL is now seeking members to sign up before June 30, 2016.
Details on membership and the activities of APRIL are covered in the prospectus (link), but basically membership will cost $75,000 annually and be on a three year rolling basis. We are seeking members to commit $75,000 as a deposit on first year's membership before June 30, 2016 (with payment before August 2016). Those wanting membership after this date will have to pay a joining fee and membership will need to be approved by a majority of the inaugural members.
Details on how APRIL will operate during the transition and the rights of members are detailed in the prospectus. Members will have the right to nominate a director and appoint a member to the R&D Advisory Committee, which will determine R&D priorities and recommend investment in R&D and training to the board.
It is likely that APRIL will have adequate revenue from membership, IP developed by Pork CRC and project contributions to invest in similar levels of R&D and training activity as currently supported by Pork CRC.
If you want to have a say in and participate in future R&D to ensure the continued success and sustainability of the Australian pork industry, you should consider membership.
The constitution and membership agreement are currently being finalised and will be made available on Pork CRC's website in the very near future.
For further information and inquires, contact Pork CRC CEO, Dr Roger Campbell (contact details)
 AusScan Advances Animal Nutrition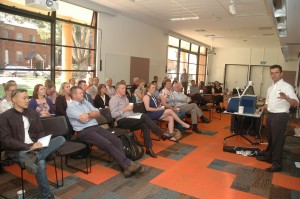 AusScan calibrations have been one of the most valuable technological advancements in animal nutrition in the past 30 years, according to leading South Australian animal nutritionist Tony Edwards of ACE Consulting.
Mr Edwards recently addressed an AusScan near infrared reflectance (NIR) workshop for Australian nutritionists and feed-mill technicians, which aimed to:
Improve industry's knowledge and understanding of NIR technology.
Discuss applications of the technology and improving data management.
Demonstrate using AusScan Online.
Discuss the future of NIR.
Outline how to utilise energy values.
Speaking at the University of Sydney, he stressed that by knowing the digestible energy of grains before feeding livestock, nutritionists could provide more accurate formulations and confidently select the correct parcels of grains for composite diets.
Pork Role in Diabetic Diets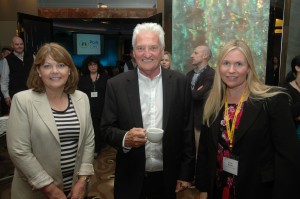 Dr Karen Murphy (right) with Pork CRC CEO Dr Roger Campbell and Pork CRC PhD Candidate Nerylee Watson at APSA 2015.
A Pork CRC study led by Dr Karen Murphy of University of South Australia has shown that lean pork can be safely incorporated as part of a weight management program for Type 2 diabetes, resulting in improved glycaemic control and cardiometabolic health outcomes.
Energy restriction has sustained health benefits for Type 2  diabetics, with high or lower levels of pork included in their diets, when weight loss is maintained. For more detail, see 3B-102 
Want a place in SA pork industry?
The SA government has given Pork CRC a grant of $500,000 to extend our Industry Placement Program in SA. See our December 10 media release 'Funding Boost for SA Pork CRC Industry Placement Program' click here for more details
This is a great opportunity for Pork CRC Participants, particularly those in SA, to bring innovation and new thinking into their businesses and for graduate and postgraduate students across Australia to receive on-the-job training in pork production and related aspects of the business, while continuing to be involved in R&D and in Pork CRC training and mentoring activities.
We urge all University researchers to bring this unique and exciting opportunity to the attention of students and ask that Participants ensure the message gets out to all in the pork supply chain, especially in South Australia.
Applications can be made at any time and are to be completed by the industry 'participant' and should be sent to Roger Campbell (roger.campbell@porkcrc.com.au) . Applications and are not limited to SA businesses.
Click here for application form