APRIL advises pork research approvals
A first call by Australasian Pork Research Institute Limited (APRIL) for research to enhance the competitiveness and sustainability of the Australasian pork industry has resulted in 14 proposals being funded to a value of almost one million dollars.
All successful proposals included a 20% to 25% cash contribution from applicants, giving a total cash budget for the first round of approximately $1.2 million.
At its April 23 meeting the APRIL Board also approved $100,000 for education in 2018/19, which will support an Industry Placement Program, similar to that successfully initiated in Pork CRC, plus top up postgraduate scholarships and honours projects. The first APRIL honours project has been approved at University of Melbourne.
According to APRIL Interim CEO, Roger Campbell, most R&D proposals were recommended with modification and all applicants have now been advised.
"The research portfolio contains very innovative proposals and provides APRIL with an exciting and positive start, with the first results expected within 12 to18 months," Dr Campbell said.
Click here for more
Weighing up pork production priorities
Addressing pork producers in Western Australia last week at WAPPA's annual Pig Day Out, Pork CRC CEO Roger Campbell said increasing carcase weight was perhaps the greatest opportunity for productivity improvement for Australian pork producers, albeit at a time when many were struggling as prices declined due to apparent over supply.
Dr Campbell suggested that if a business model was developed where $2.70/kg could sustain producers, he was optimistic producers would have a positive future.
"Also, if buyers, including supermarkets, processors and others in the meat chain, could create markets for heavier pigs, producers would respond positively and reap rewards.
"Even grain prices, which are largely beyond a producer's control and which have the heaviest impact on the bottom line, can be mitigated if, for example, other factors affecting cost of production can be better aligned," Dr Campbell said.
"While it's difficult to do much about grain and feed costs, except use the feed more efficiently, the greatest opportunity for reducing COP lies in volume and this is independent of grain price and hence more under producer control.
Click here for more
Productive Pork CRC for all to see
Although approaching its wind-up phase, the Cooperative Research Centre for High Integrity Australian Pork had another very productive year in 2016/17, in terms of research outcomes and raising the capability of researchers supporting the industry, including industry itself taking on employees through the Pork CRC's acclaimed industry placement program.
In his 2016/17 Chairman's report, released to Pork CRC participants at its annual Stakeholders' Day in Melbourne on November 18, Dennis Mutton acknowledged the importance of not only having great research outcomes, but also the capacity to put results into practice along the value chain was critical to success.
Click here for more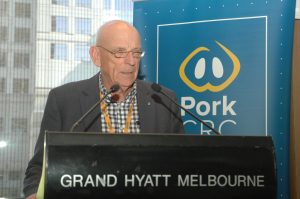 Pork CRC Chairman Dennis Mutton delivers Pork CRC's 2016/17 results at its 2017 Stakeholders' Day in Melbourne
Suckling sows not into groups
Pork CRC project 1B-105, conducted at SunPork Farms in South Australia, revealed that when sows and their litters were grouped 13 days before weaning at 28 days, sows and their litters were adversely affected. Along with sow aggression at mixing, piglets also underperformed at weaning and 30 days post-weaning. Bottom line is that Dr David Lines and his team found that efforts to reduce the time sows spend confined during lactation just might be counter productive. Click here for more
Prime time for pork packaging improvement
Pork CRC supported research (Project 3A-118) to determine how packaging impacts the ageing and eating quality if pork, suggests retailers should consider alternative packaging methods such as vacuum packaging and innovative vacuum skin packaging. To learn more about what Dr Minh Ha and his team at University of Melbourne found
Click here for more